Garbage & Glory is a tabletop RPG about dumpster diving as a party of raccoons
One human's trash is another raccoon's treasure.
Become a party of dumpster diving raccoons in Garbage & Glory, a new tabletop roleplaying game.
The upcoming tabletop RPG sees players controlling a team of raccoon adventurers as they venture into the human world in order to find and take home a ton of garbage. Whilst human civilisation views certain things as rubbish, as raccoons, the players are discovering valuable raw materials they can use within their own world. The players will need to navigate their way across dangerous locations in the human world, searching for treasures in their rubbish bins and bringing it back to their homes to repurpose.
When creating their characters, players will be able to choose from a variety of different playable classes, each bringing their own useful abilities into the party. Examples of playable characters include the highly aggressive Trash Smasher, the sneaky Sticky Fingers, the magically inclined Mess Magus, the supportive Dumpster Diviner and the charismatic Unreliable Narrator.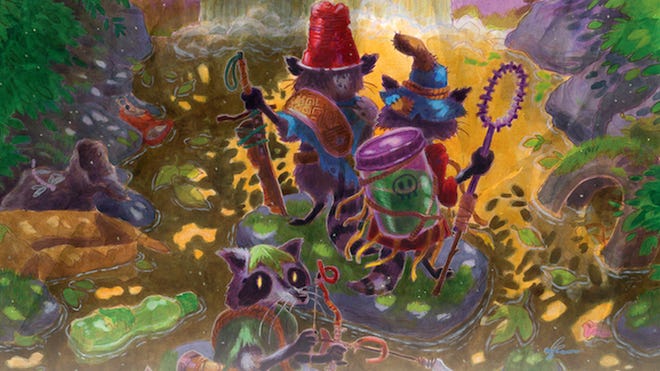 The gameplay system for Garbage & Glory is based on the +One System, which has previously been used to create other tabletop RPGs such as Heckin' Good Doggos – a title wherein you, unsurprisingly, team up as a group of adventuring canines – and Psychic Kids. Whenever players encounter a potential challenge, the games master will ask them to roll a pool of d6 dice, depending on whether it tests their physical, mental or emotional abilities.
Players succeed at a test if they're able to roll a certain number of fives or sixes – depending on how difficult the GM believes the task is – with players able to use their attributes to add dice to their rolls in order to increase their chances of success. Besides adding dice to their rolls, players are also able to use their bonus dice in order to roll a skill they're not trained in, raise a result or reroll their most recent attempt. The better the attribute, the more players will be able to push the odds in their favour.
As players progress through the TRPG, they'll gain various garbage and glory cards. Whilst garbage cards contain the physical rewards players get from their dumpster diving – such as new weapons, armour and other useful equipment – glory cards feature opportunities to heal, improve abilities and earning titles.
Watch on YouTube
Maddie recommends a collection of tabletop RPGs that aren't Dungeons & Dragons.
Garbage & Glory was co-created by producer/designer Brandon K. Aten, writers Dieter Zimmerman, who has contributed to the Dungeon Crawl Classics series, Corey Capps – who has written for Heckin' Good Doggos! - as well as illustrator Sam Brieck, graphic designer Matthias Bonnici, developer Michele Lee, editor Sarah Orr Aten and producer Matthew Orr. Wet Ink Games, the studio responsible for publishing horror TRPG Jiangshi: Blood on the Banquet Hall, is releasing Garbage & Glory.
A Kickstarter campaign for Garbage & Glory is live until August 20th, with a pledge of $20 (£16) getting backers a physical copy of the game in June 2024. Alternatively, a digital PDF version is available for a pledge of $10 (£8).