Reavers of Midgard designer reveals next board game Gates of Mara
Out this summer.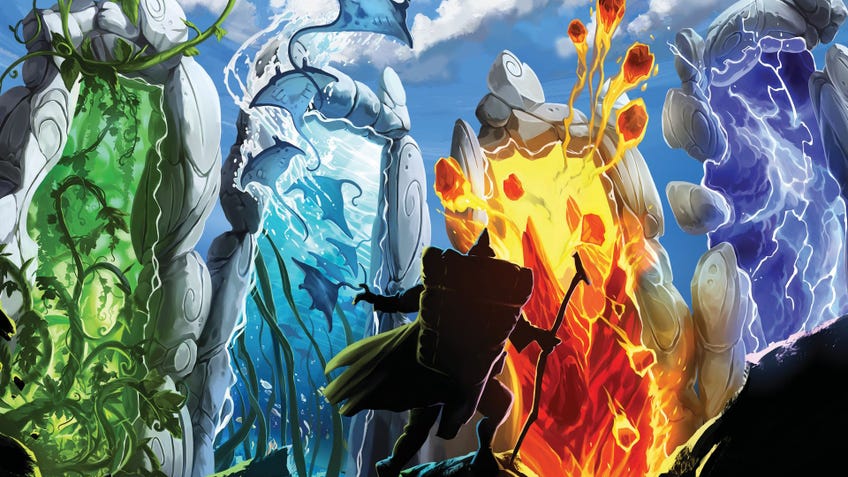 Command troops and cast magic for control of the elements in the Gates of Mara, a new board game from Reavers of Midgard designer and Flotilla co-creator JB Howell.
A board game for two to four player, Gates of Mara sees players moving their various troops throughout elemental realms in search of influence - whether that's through economic interference, impressive magic or military might - so that they may ultimately rule. During the upcoming board game players will need to complete short-term objectives in order to gain an advantage over their opponents, whilst still ensuring that their influence continues to grow. (Thanks, ICv2.)
The titular Gates of Mara are portals to otherworldly lands of energy sought after by warring tribes and guarded by powerful elemental lords; these are the battlegrounds players find themselves competing in. With the option to control one of four different fantasy tribes - the mischievous Goblins, noble Elves, fierce Dragonkin and insectoid Antids - players must establish their influence across as many of the different elemental realms as possible.
Players will be able to upgrade their existing troops to give them better abilities and improve their chances of winning, using powerful magic to find a foothold in the competition.
Howell previously created Champions of Midgard spin-off Reavers of Midgard, as well as co-designing post-apocalyptic board game Flotilla - one of 2019's most unique board games.
The publisher behind Gates of Mara is WizKids, the company behind the latest edition of horror board game Fury of Dracula and co-op board game Mage Knight.
Gates of Mara is set to be released on July 8th at a retail price of $69.99 (£58).