Gloomhaven Digital is coming to Nintendo Switch later this year
Dungeon running on the go.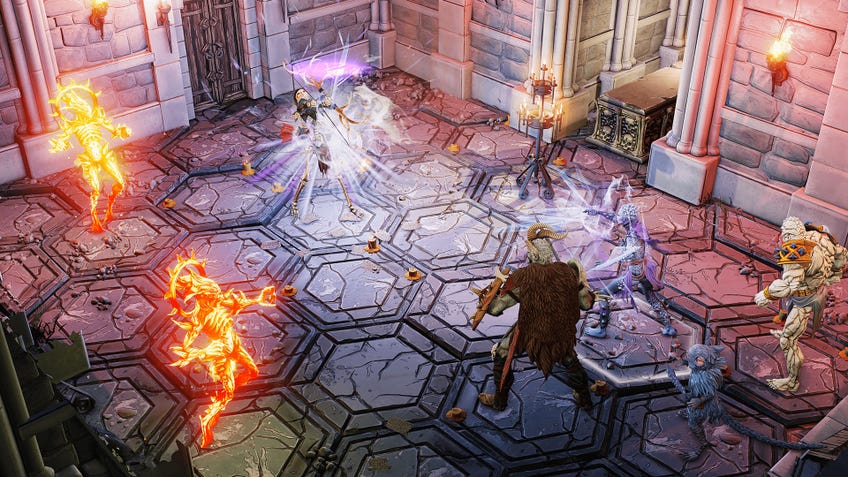 One of the best digital board games adaptations currently available is on its way to portable gaming, as strategic dungeon crawler Gloomhaven popped up among the titles coming to the Nintendo Switch on September 18th.
News that Cephalofair's massive hit board game in an equally massive box was being developed for the Switch came during a June 21st Nintendo Direct, right in the middle of the expected fare of first and third-party video games.
It's not that Gloomhaven on Switch doesn't make a ton of sense. In fact, it might be cheaper and easier for a group of three or four people to sit around and play the digital adaptation rather than bust out tiles, cards and that massive scenario book. Isaac Childres' claim to fame is quickly horning in on Skyrim levels of ubiquity now that it's available on consoles, PC and tabletop.
Like its Steam equivalent, Gloomhaven on Switch is developed by Flaming Fowl Studios and published by Twin Sails, which has brought several other board games to the digital space - The Lord of the Ring: The Card Game, Carcassonne and Catan are all feathers in the professional hat.
If you haven't tried the excellent video game port of Gloomhaven, expect it to play almost exactly like the board game: players use a card-based tactical combat system to gradually bash, shoot and slice their way through perilous hexgrid dungeons in search of treasure and objectives. Gloomhaven Digital enjoys the added bonus of a streamlined tutorial mode via solo challenges - though the single-player combat extends into challenging combat puzzles as well.
Those who want to snatch up Jaws of the Lion as digital DLC at the same time should eye the Gold edition of the game, which is currently available for pre-order alongside the base Gloomhaven digital experience on the Nintendo eshop.
Childres and Cephalofair are currently enjoying a Gloomhaven popularity renaissance, buoyed by its sequel, Frosthaven, along with news of an impending tabletop RPG set in the world and a massive Backerkit crowdfunding campaign that allows players to purchase over 600 plastic minis representing the series' entire catalogue of foes.