Fantasy football miniatures game Guild Ball is coming to an end next month
Final whistle.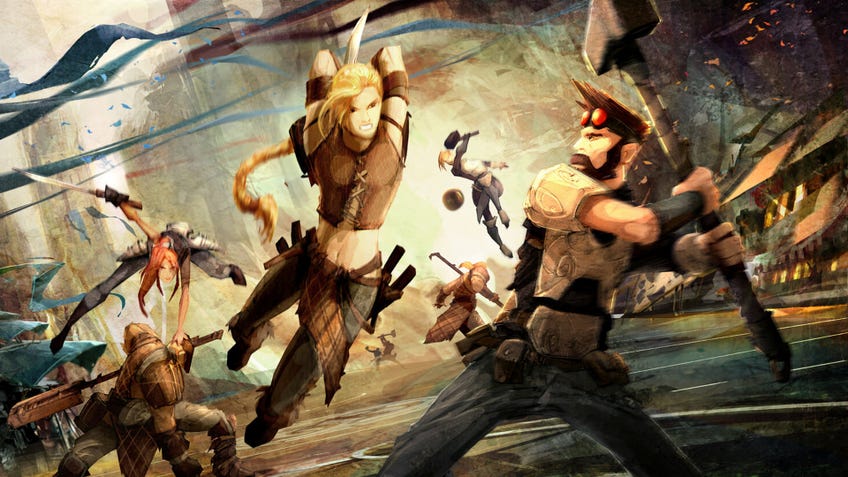 Football miniatures game Guild Ball is ending next month, with its remaining unreleased minor guilds cancelled and storyline concluding.
Guild Ball was the first game published by Steamforged, the UK tabletop studio that has gone on to make board game adaptations of video games Dark Souls, Resident Evil and Horizon Zero Dawn, as well as arena-battler Godtear.
Compared to sports miniatures games such as Games Workshop's Warhammer spin-off Blood Bowl, which was based on American football, Guild Ball was based on British football or soccer.
Set in a fantasy world called the Empire of Free Cities, the game saw teams of six players from a variety of factions - including the likes of blacksmiths, fishers, brewers and butchers - take to the pitch to score goals, attack their opponents and take out the rival team's mascot in order to gain points. The human players - known in-game as coaches - could pick from a variety of effects and abilities in their playbook and spend their influence and momentum carefully to gain an advantage over the other team.
After a successful Kickstarter in 2014, the game's first season released in 2015. It was followed by a number of additional teams (known as guilds), five seasons, rules updates and more than 250 individual models, Steamforged said. The miniatures game also saw a healthy tournament scene, including an annual world championship.
Now Steamforged has announced that it will be bringing Guild Ball to an end next month, with no further releases for the game after September 1st. The publisher said that remaining stock will continue to be available, but will not be restocked once it's sold out.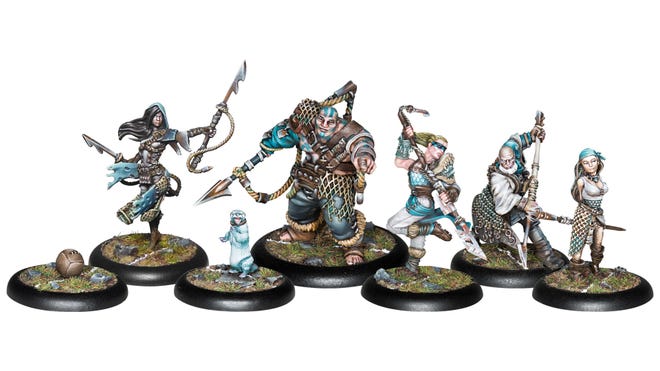 The move means that four in-development minor guilds - sub-factions of Guild Ball's major teams - will not see any rules or figures released, with the publisher confirming that "all are in various stages of concept and design, with none close to being ready for release". The cancelled minor guilds are The Lamplighter's Guild, The Watch, The Entertainer's Guild and The Moneylender's Guild for the Alchemist, Blacksmith, Brewer and Mason guilds respectively. In total, 17 guilds were released for Guild Ball during its six-year run.
Co-creators Mat Hart and Richard Loxam said that contributing factors to Guild Ball's end included the impact of the COVID-19 pandemic on competitive play and the game's "dwindling community", the result of "a game that new players found tough to get into and a gameplay style that wasn't very 'football-y'" as it evolved to suit the tournament scene.
"As the competitive scene began to dominate, the design space for wilder, more 'fun' elements began to shrink," Hart and Loxam wrote. "The style of gameplay changed to low-risk, ultra-conservative play where the ball was often deliberately side-lined.
"But we always knew this would happen eventually. From the beginning, we said Guild Ball had a shelf-life if we wanted to avoid the game collapsing under its own weight through SKU creep and shrinking design space."
Steamforged confirmed that it would wrap up Guild Ball's current fifth season - intended to conclude the current story arc of the game before its cancellation - and finish existing storylines. The publisher also left the possibility open of returning to Guild Ball at some point in the future.
"The story leaves enough of an opening for us to look ahead for Guild Ball, and the Minor Guilds give us a great opportunity to revisit this wonderful game at some point in the future," the studio wrote.
"Sadly, Guild Ball needs to retire from the spotlight…for now."