Dixit and Mysterium makers' new board game will take Azul fans to the next level - literally
Create an island sanctuary for animals.
An upcoming board game from the makers of Dixit and Mysterium looks to offer the thinky tile-arrangement of Azul - with some extra gameplay twists and a bunch of animals.
The board game currently known as Harmonize - which isn't necessarily its final name, having previously been known as Tiny Landscape - sees players collecting coloured tiles from the centre of the table to add to their personal boards. Azul fans will be right at home with what was described to Dicebreaker at this year's Essen Spiel convention as light-expert gameplay with a Eurogame feel.
Those tiles are picked from five different groups, which the active player chooses from on their turn, adding the whole group to their board in any arrangement they like. (Unlike Azul, you get all of the tiles, not just those in one colour.)
Where Harmonies really starts to diverge from Michael Kiesling's acclaimed 2017 hit and other tile-placement games is on those player boards. Players are working to arrange the tiles on their hex-grid board in specific patterns to attract animals to their island.
Those animals are represented by objective cards that all players can see, and are claimed by the first player to fulfil the pattern shown.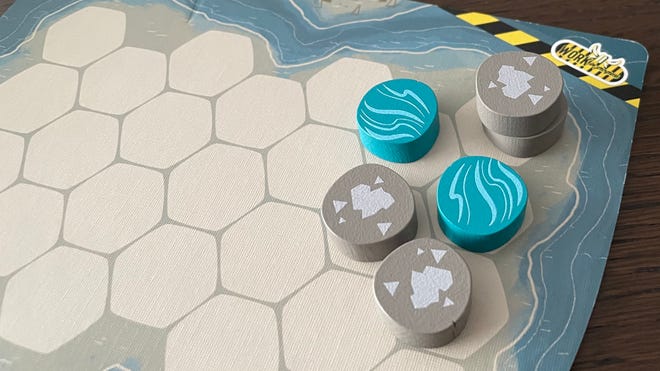 In a next-level change from the likes of Azul, players can choose to stack up to three tiles on the same space, forming patterns vertically as well as across adjacent spaces on their board. These match the arrangements on the animals cards, providing a fun visual and mechanical representation of the tree (a brown 'wood' token topped by a green 'leaves' piece) needed for a monkey, for instance; two grey 'rocks' formed into a mountain, or two red tokens to make a woodland cottage surrounded by rabbits.
In an exception, water and sand tokens can't be stacked, adding an extra consideration to where players put their tiles.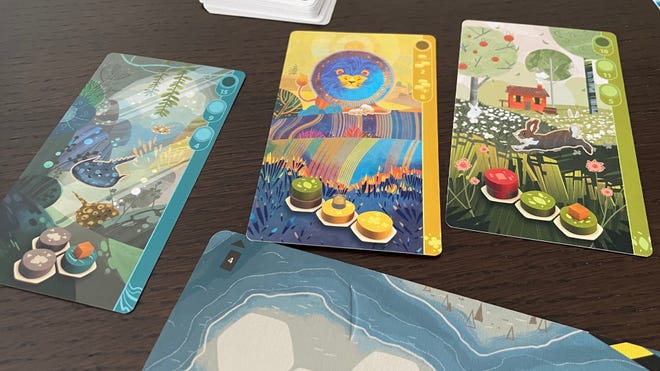 At the end of the game, the players score for the animals they successfully attracted to their island, as well as for other objectives - such as the longest river formed by contiguous water pieces.
Harmonies will be released by publisher Libellud in April 2024.
An earlier version of this article referred to the game as Harmonize. Its correct title is Harmonies.