Heroes of Barcadia is a drinking dungeon-crawler that wants to be fun without getting drunk
Headed to Kickstarter on June 7th.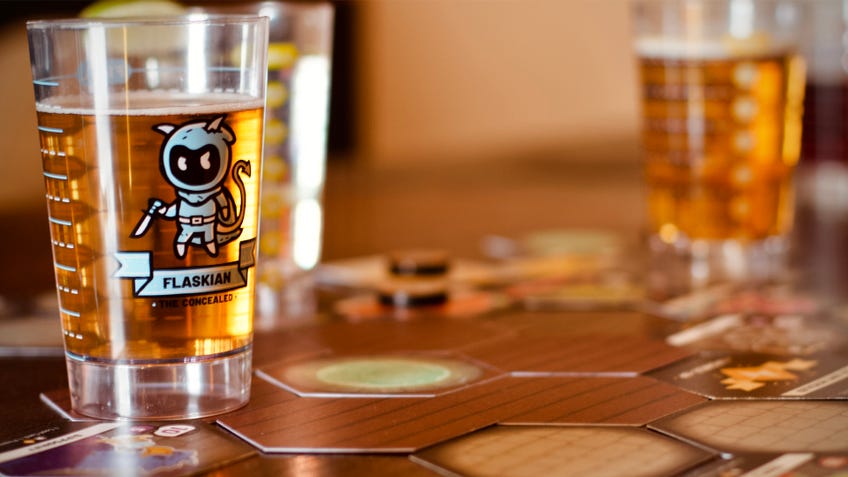 A drinking board game inspired by an April Fool's Day joke is headed to Kickstarter next month, hoping to give players a fun time together whether they're drinking alcohol or not.
Heroes of Barcadia is the first release from Rollacrit, a fledgling tabletop merchandise label founded by former employees of pop culture merch maker ThinkGeek. The game was inspired by the mockup of baRPG, a roleplaying-lite board game that used drinking glasses to track player's health points, that served as an April Fool's gag for ThinkGeek in 2016.
The real Heroes of Barcadia features a similar "liquid life" system, with players' characters represented by custom drinking glasses that begin the game full of their beverage of choice (alcoholic or otherwise - please drink responsibly). The game's creators assured Dicebreaker that no specific gameplay elements are connected to the players' level of inebriation, meaning that non-alcoholic substitutes can be used without impacting play - even making it suitable for children and adults to play together.
As the two to six players reveal and move around the randomised hex tiles representing a dungeon, they will battle monsters, sipping away a health point for each hit they take or refilling as they heal. Battles are resolved by rolling a single d20, with the player order determined by a D&D-esque initiative roll. Characters and monsters alike feature abundant wordplay, from Intoxica the Necromixer and Sir Drankalot the Inebriated to Hopgoblins, the Mimosasaurus and The Wicked Witch of the Yeast.
Players can collect power-ups along their way, using their gained abilities and other loot and trap cards to hinder their fellow adventurers as they all compete to defeat the Grand Drink Guardian and claim the Drink Hoard. In the vein of cut-throat party hit Munchkin, only one player can win, so it's a scramble between players to get ahead while avoiding traps, attacks and monsters themselves.
Heroes of Barcadia was designed and illustrated by Madison O'Neil, who provides colourful, cartoony artwork for the game's various heroes and creatures.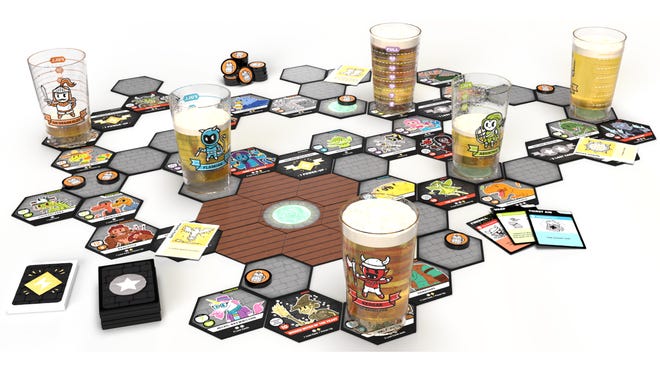 A Kickstarter for Heroes of Barcadia will launch on June 7th, offering a physical edition of the game that includes custom drinking glasses, cards and tiles - all said to be appropriately waterproofed to survive accidental spillages.
A second tier will offer the physical edition alongside a digital version playable over virtual tabletop app Roll20, although you'll need to provide your own drinkware.