Hoop Godz brings street basketball to the table as a board game
Second game from Rap Godz creators.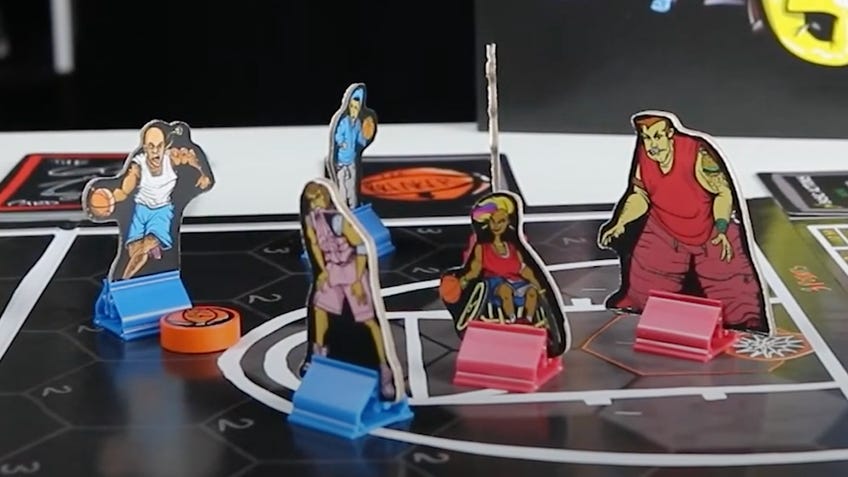 The second release from the creators of hip-hop board game Rap Godz has hit Kickstarter, bringing a head-to-head game of street basketball to the tabletop.
Hoop Godz is a two-player board game that sees each player control a team of three players as they move around the court, aiming to score seven points before the opposing side.
In the 45-minute sports game, players can spend their available juice - regained each turn - to move, pass and boost their dice rolls, as well as playing action cards to steal the ball, take a shot at the hoop or even go for a slam dunk.
Players can interrupt their opponent's actions by playing reaction cards, leading to a real-time dice battle to determine the winner by matching the icons on their card. The first play to match the card they played performs the action, blocking their opponent's action.
This being street basketball, players can even break the rules by spending juice to draw a powerful G.O.A.T. card.
Players can form their team from a roster of 12 players, with their differing sizes and unique abilities playing a part in their performance on the court.
Designer Omari Akil and lead artist Hamu Dennis previously collaborated on Rap Godz, a two to four-player game about making it big in the hip-hop world by releasing albums and building up your reputation as an artist.
Hoop Godz is the second game from publisher Board Game Brothas following Rap Godz, and is currently live on Kickstarter where it's already passed its nearly £14,000 goal. The game will be released in December 2021.