Horrified: Greek Monsters is basically a horror-themed Hades board game
Not a minor-taur challenge.
The next iteration of the Horrified board game series sees players facing off against Greek mythological monsters.
Horrified: Greek Monsters is an upcoming board game that transforms the original Horrified from its Gothic, Hammer Horror roots into a Grecian monster-slaying adventure. With the opening of the notorious Pandora's Box, a whole host of terrifying monsters from across Greek mythology have been unleashed onto the world. Similar to the popular video game Hades, players will answer the call of the Greek Gods in order to battle various recognisable creatures from myths and legends.
Whilst the first Horrified featured the likes of Dracula and the Invisible Man – classic characters from Universal Monster movie history – Horrified: Greek Monsters features a total of six different creatures, each taken from Greek mythology. The potential monsters that players can face include the snake-haired Medusa, the three-haired Cerberus, the bizarre Chimera and the mighty Minotaur.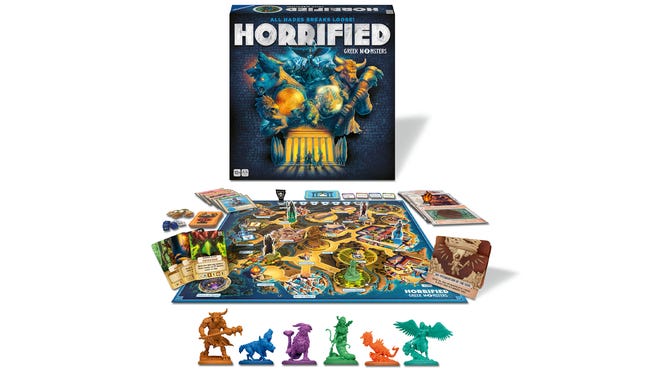 As in the original co-op board game, Players in Horrified: Greek Monsters will need to work together in order to survive and defeat the various creatures that threaten their world. Each monster has different requirements players need to fulfill in order to beat it, with the group needing to balance their objectives and manage the negative effects of the various creatures to win.
Besides the new setting and monsters, Horrified: Greek Monsters adds a brand-new gameplay mechanic to the series. Some of the creatures – such as Medusa and Cerberus – have their own lairs, like the Labyrinth and Underworld Door, located somewhere on the board that players will need to uncover before they can defeat them. When facing off against these monsters, players will need to unlock their lairs by discarding three coloured items, with the group not knowing which lair is where until they have revealed their identities by discarding items.
Players successfully win the game if they are able to find the monsters' lair/s and complete each of their defeat objectives before Elysium is destroyed by the creatures stomping through its streets.
Dicebreaker plays the original Horrified.
Horrified: Greek Monsters is set to be released by Ravensburger, the studio behind the original Horrified and the upcoming trading card game Disney Lorcana, which features various notable characters from across Disney animated history.
The release date for Horrified: Greek Monsters is set for October 1st, with the game releasing at a retail price of $35 (£27).