Kitchen Rush is basically Overcooked: The Board Game, serving up its Revised Edition in the US "soon"
Hob topic.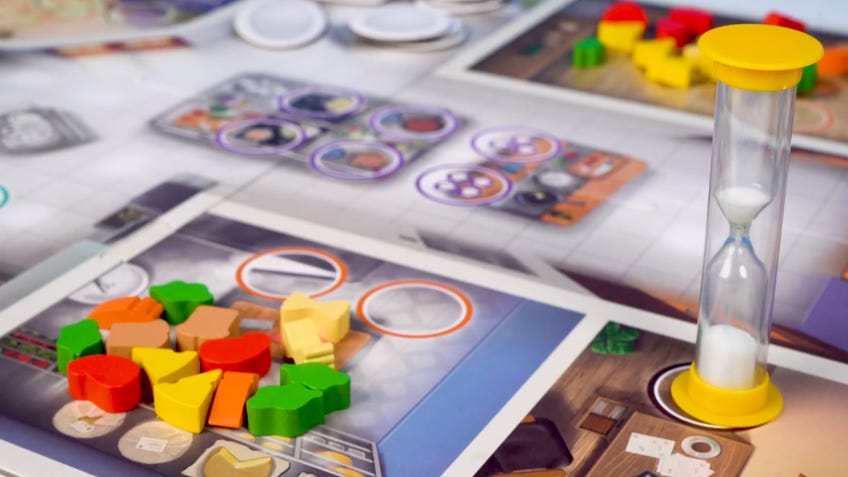 The Revised Edition of real-time, co-op board game Kitchen Rush will see a release in the US "soon", following its delay into 2021, according to the new edition's publisher Pegasus Spiele.
Originally released in 2017 by Artipia Games, Kitchen Rush sees up to four players working together to fulfil orders in a restaurant by gathering and preparing ingredients, combining them into requested dishes, and moving around the kitchen to ensure that patrons get fed and the plates get washed - all against the real-time ticking of the sand timers that represent their restaurant workers. If you're imagining frantic multiplayer video game Overcooked as a board game, you're basically there.
Each 'shift' round only lasts four minutes, with players moving their sand-timer staff between places in the kitchen and having to wait for the sand to drain through before they can be assigned to another task. In-between shifts, players must pay their staff and ensure their restaurant's reputation isn't impacted by unfulfilled orders.
Pegasus Spiele's Revised Edition of the game revamps the divisive artwork and component quality of the original release and introduces new rules for added complexity, replayability and variation through a campaign mode and modular board layout. (A campaign mode was previously added in first-edition expansion Piece of Cake.) A new series of eight scenarios introduces newcomers to the rules step by step, gradually taking on more complicated demands and expanding their restaurant as they go.
The new iteration also introduces optional rules for serving queuing customers with drinks - costing money, but limiting their ire at having to wait - and more complex requirements when it comes to storing ingredients, with bread and pasta needing to be kept away from other foodstuffs. The new edition also drops the single-player variant of the original, with a greater focus on the co-operative multiplayer experience.
Kitchen Rush: Revised Edition was released in Germany in 2019 and saw a wider English-language release in Europe last year, but its upcoming US launch will mark the first time the game has been widely available in North America following its delay into 2021 due to "licensing issues". Pegasus Spiele is yet to confirm an exact release date, with a US RRP listed as $49.99 on its online store.