Last Aurora board game is Mad Max on ice, getting an English edition from War of the Ring creator
Cool off.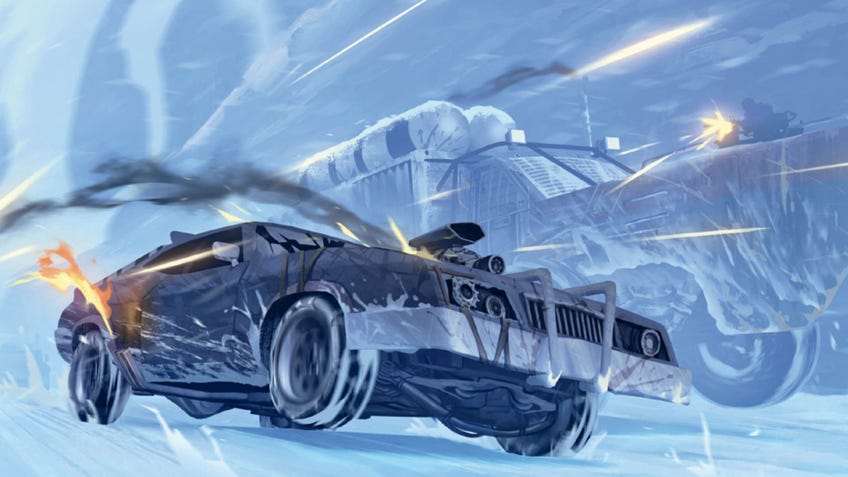 Last Aurora, a post-apocalyptic adventure board game set in a desolate tundra, is getting an English edition from Ares Games - the publisher behind Lord of the Rings board game War of the Ring.
Taking place in the aftermath of a nuclear war that has devastated the Earth's environment, leaving it a frozen radioactive husk, Last Aurora is a survival board game that has players leading a group of survivors to a ship. Named Aurora, the icebreaker is the last known vessel still sailing, so players will have to reach it before their opponents do by racing across the tundra.
Made up of six rounds, Last Aurora sees players managing their meagre resources, improving their vehicles for the trip, hiring new crew members and fighting off dangerous threats in their journey to the ship. As players gather more survivors, they'll be able to perform more actions and swap around workers needing to recuperate from their efforts.
In the board game's first expansion - Project Athena - players have failed to find the Aurora and must trek across the tundra whilst fighting against a malicious AI program called Athena. Introducing new mechanics, resources and survivors, Last Aurora: Project Athena further ramps up the difficulty of the main game.
Last Aurora was designed by Mauro Chiabotto, the co-creator of Celtic-themed board game Samhain and King of Con: a family board game about acquiring rare collectibles.
Originally published by Italian outlet Pendragon Game Studio - creator of horror board game Last Friday - after a successful Kickstarter campaign last year, Ares Games is working with the publisher on the English-language version of Last Aurora and Project Athena.
As well as War of the Ring, Ares Games is also known for releasing titles such as miniatures game Wings of Glory, co-op board game Sword & Sorcery and social deduction game Inkognito
The English edition of Last Aurora is set to be released sometime in the summer of 2020.