Call of Cthulhu studio's '70s board game Lords of the Middle Sea is being revived with an RPG
Based on wargame by late Masks of Nyarlathotep and RuneQuest author Lynn Willis.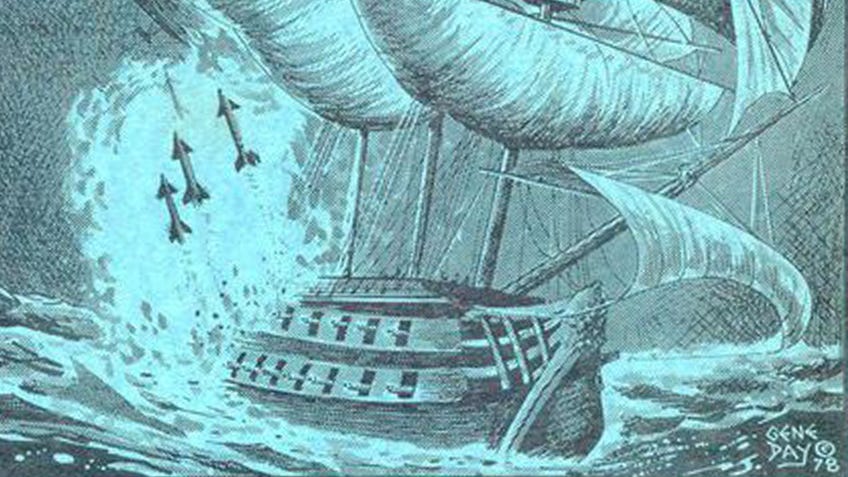 Lords of the Middle Sea, a post-apocalyptic board game released in the late 1970s by Call of Cthulhu publisher Chaosium, is making a surprising comeback in the form of a new tabletop RPG adaptation.
Lords of the Middle Sea was first published in 1978, the third major release from Chaosium following its 1975 debut White Bear and Red Moon and seminal RPG RuneQuest, which also made its first appearance in 1978.
Designed by Lynn Willis, later known for co-authoring the second and third editions of RuneQuest and epic Call of Cthulhu campaign Masks of Nyarlathotep among other RPGs, Lords of the Middle Sea took place in a futuristic post-apocalyptic North America following widespread flooding.
Players led different factions as they explored the scant land left - typically mountaintops - and traversed the ruined Earth of 2401 via steam-powered airship and sea vessel. Movement on land was measured using hexes, while the open sea and sky were gridless areas. The game featured a number of different scenarios for up to four people to play.
According to Chaosium's announcement, while Lords of the Middle Sea didn't see the commercial success of RuneQuest and Call of Cthulhu, the game enjoyed a passionate cult following - despite only seeing a single print run of its first and only edition in 1978. Willis passed away in 2013.
More than 40 years later, Chaosium is reviving Willis' "proto-Steampunk" world with a tabletop RPG based on Lords of the Middle Sea.
Designed by John Snead, the Lords of the Middle Sea RPG will be built on the Basic Roleplaying system that powers RuneQuest and Call of Cthulhu. The rules have apparently been "streamlined" for the upcoming RPG, and will support both standalone scenarios and longer-term campaigns.
Players will control adventurers, traders, explorers and other characters surviving in the world ravaged by nuclear war and natural disaster. The party will have a ship that they can customise and use to travel the ruined Earth, seeking out isolated settlements on the dots of remaining land or the last remnants of technology hidden away in underground bunkers.
The core rulebook will be followed by an adventure sourcebook, along with planned future supplements. A release date for the Lords of Middle Sea RPG is yet to be announced.