Magic: The Gathering Arena is holding a new Open tournament where anyone can win $2,000
Unlimited prize pool for two-day competition.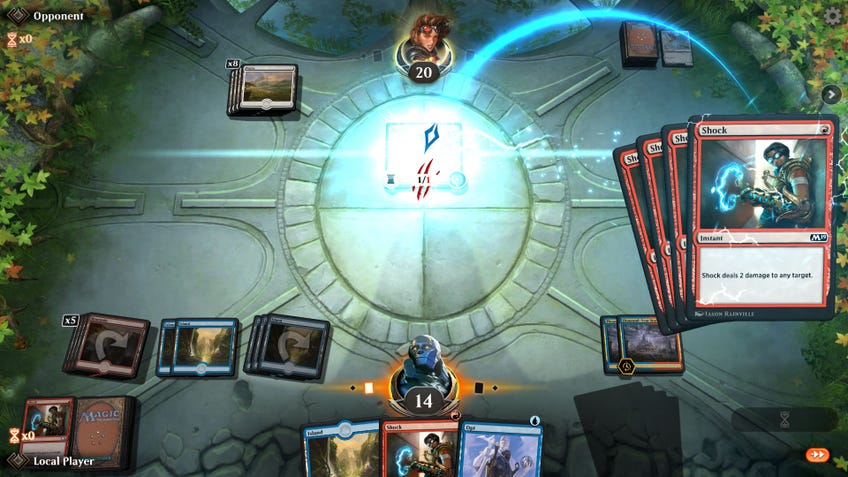 Magic: The Gathering Arena, the digital board game counterpart to the trading card game, has announced a new tournament format with an unlimited prize pool and no restrictions on who can enter.
The Magic: The Gathering Arena Open will allow players of any skill level and ranking to take part in a two-day tournament, from veteran players to those just learning how to play MTG. Entry costs 20,000 gold - Magic: The Gathering Arena's free virtual currency, earned by playing matches - or 4,000 gems, the app's paid-for premium currency that can also be won during official events.
The first day will see players attempting to achieve seven best-of-one wins in order to advance to day two of the tournament. If they are defeated three times, players are free to re-enter as many times as they want in order to try and reach the next stage. Winners will also earn up to 2,000 gems.
The second day of the tournament follows a similar format, with players competing to achieve seven best-of-three wins before racking up three losses. This time, players only get a single shot, with their final win count determining the prize they receive.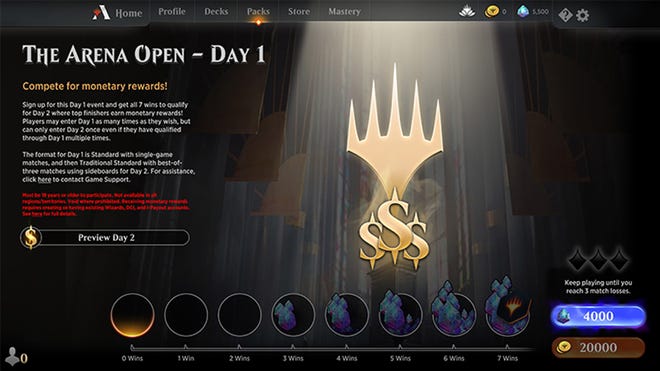 The open structure of the tournament means that players can compete in matches as and when they like during each day, rather than being assigned specific times and match-ups.
Magic: The Gathering Arena Open prizes include upwards of 2,000 gems for at least one win, as well as money prizes for the best-performing players. Players who achieve six wins will receive $1,000, while seven victories ups the prize to $2,000. (Due to the cash prize, players will have to be 18 or older.)
Magic: The Gathering publisher Wizards of the Coast confirmed that the Arena Open prize pool will be unlimited, meaning that any number of players who achieve the required number of wins will be eligible for the cash prize.
Everyone who takes part in the Magic: The Gathering Arena Open will gain a set of Godzilla land cards from the trading card game's Ikoria: Lair of Behemoths set, which features a number of cards featuring the classic movie monster.
The Magic: The Gathering Arena Open will be based on the card game's Standard Constructed format. Wizards of the Coast said that future Open tournaments could use other popular MTG formats, saying "using other formats (looking at you, Draft) is more of a 'when' not 'if'" in its announcement.
The first Magic: The Gathering Arena Open will be held in the digital board game from May 30th to 31st. Wizards of the Coast said it planned to hold multiple Arena Open tournaments throughout the year based on the response to the first event.