Magic: The Gathering Doctor Who set will feature cards based on lost episodes
Blast from the Past.
The upcoming Magic: The Gathering - Universes Beyond Doctor Who Commander set will feature cards based on missing episodes from the television series.
Doctor Who is a long running television series which revolves around a mysterious figure called The Doctor, who travels across space and time embarking on adventures. Beginning in 1963, the show features several seasons and multiple actors in the role of The Doctor. In 2005, the series was revived after a 10-year hiatus, with the show seeing it's 60th anniversary and the arrival of its 14th Doctor, Sex Education and Barbie actor Ncuti Gatwa, coming sometime soon.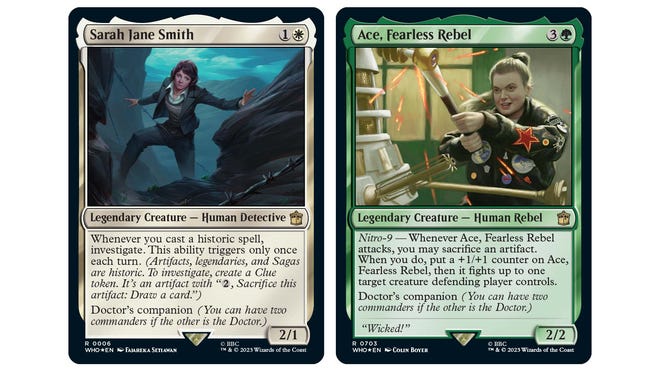 From the late '60s to the late '70s, the British Broadcasting Corporation began deleting programmes that had already aired in order to save space and reuse materials, with episodes from various TV series sometimes being taped over or entirely destroyed. A total of 97 episodes of Doctor Who are currently considered to be lost, mostly from series three, four and five. Initially, it was believed that more had been lost, however, some were successfully recovered from various sources.
Despite their original imagery remaining unfound, the 97 missing episodes of Doctor Who survive via their audio recordings, which somehow weren't destroyed. Whilst some episodes have been reconstructed using photographs taken from the set of their respective episodes, others have been restored via new animation that has been synched to the audio track for the episode. The officially restored episodes include several from series four – such as The Power of the Daleks and The Evil of the Daleks – and multiple form series five, like The Web of Fear and The Invasion.
Watch on YouTube
Wheels explains why the Commander Format is the best way to play Magic: The Gathering.
Several of the lost episodes will reportedly be referenced via cards featured in the new set for trading card game Magic: The Gathering. Part of the franchise's Universes Beyond series – which has already seen the release of a set based on The Lord of the Rings – that's based around adapting existing intellectual properties into the world of Magic: The Gathering, the Doctor Who set will include a collection of cards based on characters, places, creatures and episodes from the TV show.
Wizards of the Coast – the publisher behind Magic: The Gathering, as well as tabletop RPG Dungeons & Dragons – has not confirmed exactly which lost episodes will be referenced within the Doctor Who set, but the set will feature several saga cards: each based on an episode from the sci-fi series.
The Magic: The Gathering – Universes Beyond: Doctor Who set will be released on October 13th.