Magic: The Gathering announces Valentine-themed Secret Lair drops and an upcoming ban
Heartbreak for Uro-mantics.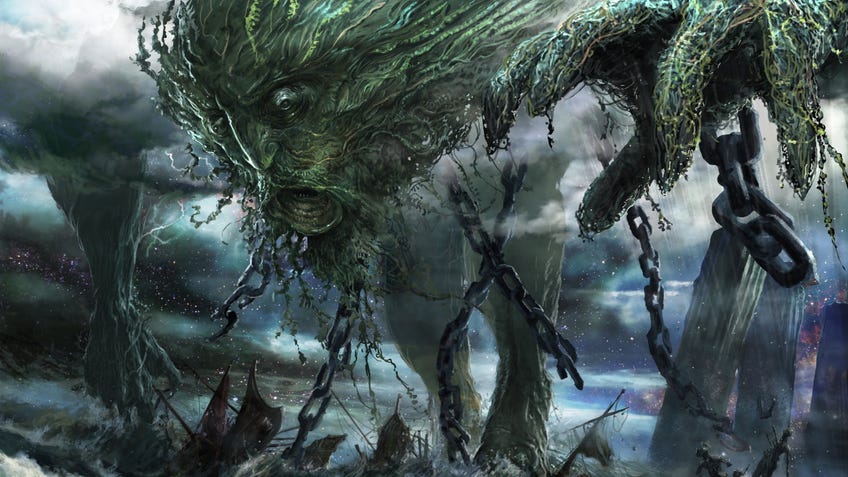 Wizards of the Coast has announced a spate of upcoming releases for Magic: The Gathering's Secret Lair themed around Valentine's Day and heavy metal lands, along with a brief peek at a near-future ban announcement.
Secret Lair's Smitten Superdrop continues Magic: The Gathering's line of deluxe, alternate-art cards packaged around a theme and sold directly to collectors through a digital storefront. While Secret Lair: Ultimate Edition 2 is delayed by production and shipping concerns, other offerings seem on track - pre-orders for all five will remain open from February 12th through the 21st. As with past Secret Lair drops, supplies may be limited and there's no guarantee Wizards of the Coast will offer another chance to buy them.
Faerie, Faerie, Faerie Rad bundles four iconic fey fliers with alternate art that would have perfectly blended in with any Lisa Frank trapper keeper. Illustrators Maria Abagnale, Jen Bartel, Rian Gonzales and Maria Poliakova provide bright new designs that will only be available in foil, which one imagines only increases the magical appearance of the cards.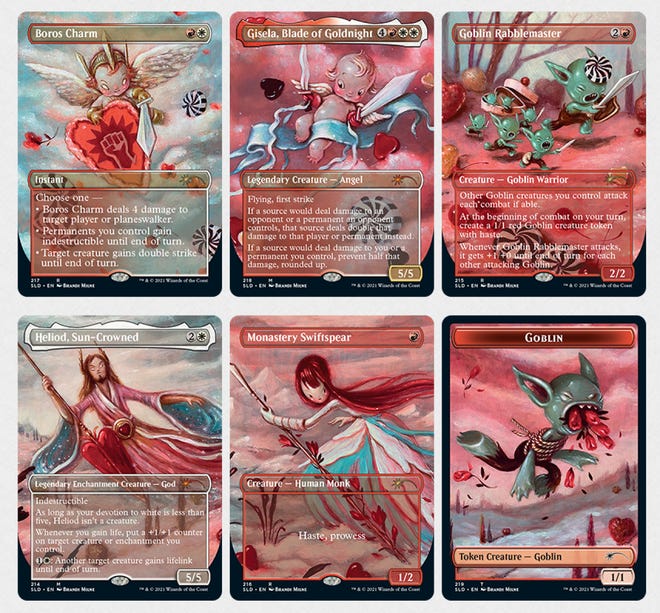 The Unfathomable Crushing Brutality of Basic Lands is both a mouthful and the name for a drop that delivers five Basic lands with striking art from illustrator Mark Riddick. Riddick's style delivers a black-background design that wouldn't look out of place on a shirt purchased from a death metal concert and ties in nicely with the recent release of latest set Kaldheim. (One could argue it's more heavy metal than any official art from the set.)
The Valentine's Day 2021 drop is a collection of five Red and White mana cards - plus one token - from artist Brandi Milne that portrays a more cherubic side to several iconic cards. Prominently pastel and painterly, this collection will let you dispatch opponents with cuteness and strategy.
Kaldheim, the latest full set of cards that released on February 5th, provided a land of Norse legends, warring gods and a chariot drawn by cats. It also introduced several towering giants, a staple creature type in the card game's long history. The two-part Showcase: Kaldheim focuses on Giants from past collections, rendering them in a unique showcase frame as though they were part of the Kaldheim plane. Both will focus on two mana colors - Green/Blue for one and Red/Black in the other - and package three mythic-rarity giants, perhaps most notably Uro, Titan of Nature's Wrath. It was banned from the competitive scene in September 2020 for dominating tournament decks, along with online matches in Magic Arena.
Speaking of Uro bans, Wizards of the Coast said that Uro, Titan of Nature's Wrath would be the subject of a future ban announcement despite being featured in a Secret Lair drop. "We are planning an upcoming B&R announcement. In that announcement, we plan to ban Uro, Titan of Nature's Wrath in Pioneer, Modern, and Historic. Additionally, we are continuing discussions about doing the same in Legacy," the post read.
Such transparency will likely be appreciated by players interested in purchasing a premium box that includes a card that will soon be unplayable in most formats. Magic Arena players voiced frustration when Omnath, Locus of Creation was banned less than a month after release - during which time many players spent valuable currency acquiring the then-useless card.
Each of the Secret Lair drops range in price and come in a foil and non-foil version. Of course, those who hate their bank accounts but truly love deluxe, limited-offer Magic: The Gathering cards can purchase the Smitten Superdrop containing all of the previewed sets, with and without foil, for $259.91/£259.91. Happy Valentine's Day to your card sleeves and display shelves.