Magic: The Gathering's Secretversary Superdrop celebrates with Bob Ross and a Box of Rocks
With more cards illustrated by Seb McKinnon.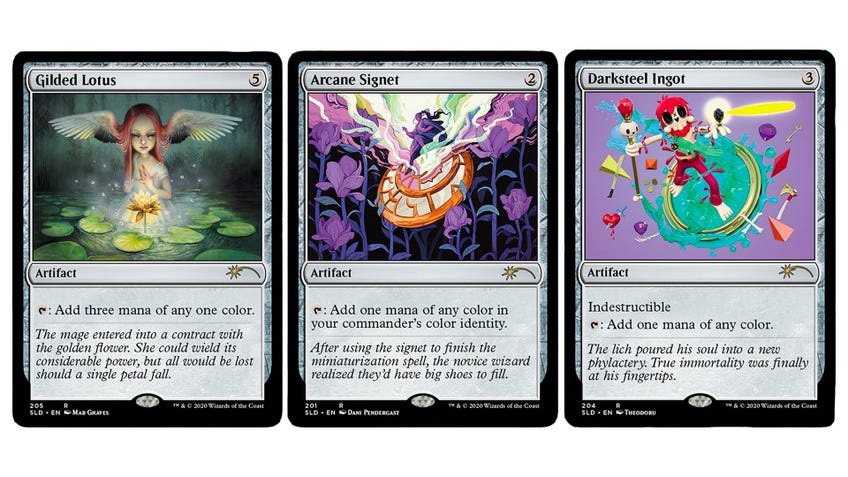 Magic: The Gathering is getting a Secretversary Superdrop containing card sets with illustrations from cult artist and television presenter Bob Ross, alongside other beloved artists, to mark a year of Secret Lair drops for the trading card game.
In November 2019, it was announced that Magic: The Gathering would receive various unique card sets based around different themes that would not be featured in any standard expansions for the card game. A year on and the anniversary of the first Secret Lair set is being marked by a Secretversary Superdrop that will include several sets of cards for players to obtain during a limited time.
"You can do anything here — the only prerequisite is that it makes you happy."

This Bob Ross quote is applicable to painting, AND building your next Magic deck. https://t.co/xwmjoQu3Q9 pic.twitter.com/SP8404P8xh

— MTG Secret Lair (@MTGSecretLair) November 24, 2020
One of these sets is called Happy Little Gathering, a set of Magic: The Gathering cards featuring artwork by Bob Ross that was leaked earlier this month before being revealed by Vice. It appears that two of Ross's landscape paintings have been used to create five land cards in the set - used to obtain the mana needed to play additional cards - as well as an Evolving Wilds card capable of being played as any land type of the player's choosing.
A set of cards illustrated by Seb McKinnon - a well-known artist behind a number of modern Magic: The Gathering cards - including Swamp, Damnation, Sower of Temptation and Enchanted Evening, is also part of the Secretversary Superdrop. (Thanks, ICv2.)
It's time to kick off our Secret Lair #Secretversary Superdrop celebration AND the very first Artist Series drop! Get ready for Artist Series: Seb McKinnon.

This drop (and more) will be available for preorder from November 30 to December 14, at https://t.co/a0WcxZVh7b. pic.twitter.com/9rsYQXe2ya

— MTG Secret Lair (@MTGSecretLair) November 23, 2020
Another set featured in the Secretversary Superdrop is A Box of Rocks, a set of cards based on a collection of different geodes, minerals and other rock types. The set will include the Arcane Signet, Commander's Sphere, Chromatic Lantern, Gilded Lotus and Darksteel Ingot cards, with artwork from Yosuke Ueno, Mab Graves, Dani Pendergast, Sheena Aw and Theodoru.
Past Secret Lair drops have included a set featuring psychedelic slime monsters by Wizard of Barge called Prime Slime, a set based on hit television series The Walking Dead and a Summer Superdrop that contained cards with illustrations inspired by traditional tattoo art, robots and planeswalkers enjoying a day off performing heroic deeds.
There is currently no set release date for the Secretversary Superdrop yet, with publisher Wizards of the Coast launching a website for the set that will be updated sometime today.