Magic: The Gathering Black Lotus worth $615,000 breaks yet another sales record, days after the last one
Artist proof signed by creator Christopher Rush outsells Alpha Black Lotus.
Another week, another record-breaking sale for Magic: The Gathering's most iconic card, the Black Lotus.
Mere days after a perfect-condition Alpha Black Lotus signed by artist-designer Christopher Rush set a new record for the most expensive MTG card ever sold at auction, another Black Lotus autographed by Rush has already beaten its impressive figure.
What's more, the Black Lotus sold on March 24th - eight days after the previous card sold for $540,000 on March 16th - is part of MTG's later Limited Edition Beta set, rather than the game's very earliest Alpha release. On top of that, the card's condition was rated as a 'Near Mint/Mint+' 8.5 by grading specialist CGC, in comparison to the last card's top score of Gem-Mint 10 awarded by PSA.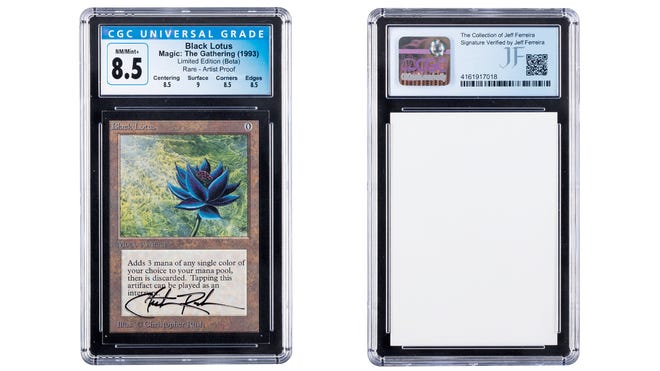 Instead, this latest card's value lies in being an artist proof for the Beta Black Lotus. Also known as 'whitebacks', due to the absence of MTG's familiar card back illustration on their reverse, these proofs are provided to artists who work on Magic: The Gathering as a way of owning and showing off their art for the game without impacting the value or rarity of cards on the secondary market.
With only a few dozen whitebacks reportedly produced at most for any card, artist proofs have themselves become highly collectible among MTG collectors - potentially being even rarer than the few surviving copies of the Alpha Black Lotus and other Power Nine cards recorded today.
The Beta Black Lotus artist proof sold for $615,000 via Heritage Auctions was part of the collection of Jeff Ferreira, Rush's former agent. While the Alpha Black Lotus sold the week before had Rush's signature on its protective case, this latest card featured the late MTG designer's scribble directly on the card itself.
"The rarity of the card cannot be understated, as the copies known to exist in the community is incredibly small, and for any copy, much less a signed copy, to come up for public auction is unheard of," Heritage said, claiming that the sale was the first time that a copy of the whiteback had appeared at auction. According to the auction house, the $615,000 sale price set a new record for the most valuable MTG card sold via public auction.
Ferreira's collection also included a number of other rare Magic: The Gathering cards - including several of the Power Nine - original drawings and paintings from Rush of the Black Lotus, and various illustrations from the artist on MTG cards that offer playful takes on the Black Lotus alongside Darth Vader, R2-D2 and Frozen's Olaf.