Magic: The Gathering Black Lotus sells for $540,000, setting yet another record for the holy grail card
The perfect condition card signed by artist Christopher Rush is now the most expensive MTG card ever sold at auction.
An autographed Alpha Black Lotus, Magic: The Gathering's legendary holy grail card, has set another new sales record for the trading card game after fetching $540,000 at auction.
The Black Lotus sold for the record sum on March 16th is one of just six copies of the Black Lotus from Magic: The Gathering's Alpha set to be rated at a flawless Gem Mint 10 condition by grading specialist PSA. The card dates from Magic: The Gathering's very first Limited Edition Alpha set released in 1993, with approximately 1,000 copies of the Alpha Black Lotus ever printed. Only 105 of that number have been graded by PSA in any condition.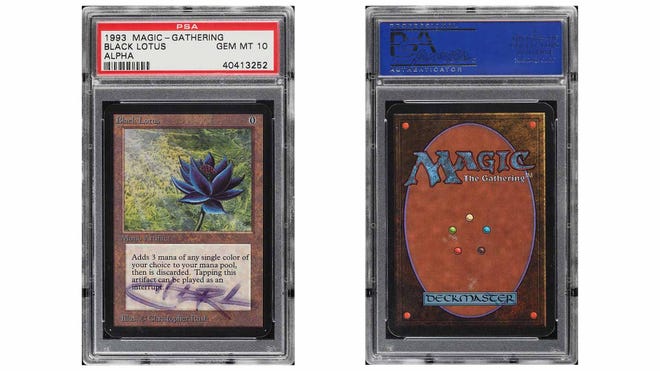 While the Alpha Black Lotus is worth a staggering amount of money in any condition, the record-setting card's value was boosted by both its perfect condition and the inclusion of an autograph from designer-artist Christopher Rush on its protective case. Rush, who died in 2016, was the original creator of the Black Lotus, as well as illustrating the symbols for MTG's five mana colours and over 100 other cards.
The card's sale for $540,000 via auction house PWCC beat the previous record set by another Gem Mint 10 Alpha Black Lotus signed by Rush, sold for just over $511,000 in January 2021. The new price makes this latest card the most expensive Magic: The Gathering card ever sold at public auction, according to PWCC.
The latest sale follows a year of record-breaking sales for Black Lotus and the rest of Magic: The Gathering's Power Nine - nine cards from its earliest sets banned due to their in-game strength, that became among its rarest and most valuable cards as a result. While no card topped the signed Alpha Black Lotus sold in 2021, a number of Power Nine cards from MTG's Alpha, Beta and Unlimited sets broke sales records in 2022 as demand among collectors continues to see prices reach ever-more extravagant heights.