Autographed Black Lotus looks set to become Magic: The Gathering's most valuable card
Mint-condition 1993 Alpha card autographed by artist and designer Christopher Rush up for auction on eBay.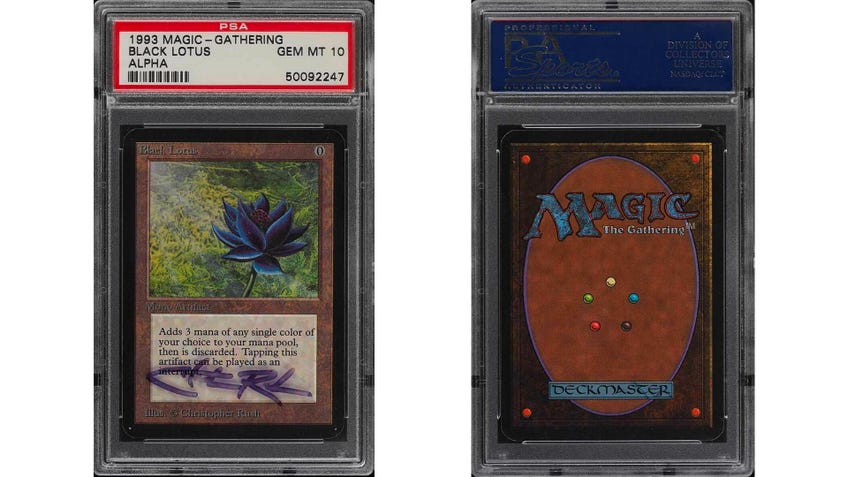 Magic: The Gathering's most valuable card, the Black Lotus, looks set to break a new sale record for the trading card game at auction.
A mint-condition copy of a Black Lotus from 1993's Alpha set - Magic: The Gathering's original print run - is up for sale on eBay, where the current bidding price sits at just over $300,000 with another 10 days left on the auction. A number of bids temporarily pushed the price over $1 million, before being retracted or cancelled without explanation.
While the Black Lotus has long been considered MTG's most expensive card, the copy currently under the hammer adds another element of rarity and value: an autograph from artist and designer Christopher Rush. The autograph is on the plastic case protecting the card, which has been rated at a perfect PSA 10 Gem Mint condition.
PWCC, the auction house offering the card for sale, said that the card "is by all counts the single finest Alpha Black Lotus we've had the pleasure of brokering", describing the Black Lotus as the "holy-grail of Magic MTG [sic] cards". The shipping on the listing is itself $250 - presumably to ensure safe transport of the one-of-a-kind card.
The current $300,000 bidding price would potentially make the autographed Black Lotus the most expensive copy of the card ever sold at auction - as well as the most valuable Magic: The Gathering card of all time.
The typical price of an Alpha Black Lotus is $193,967, according to MTGPrice.com, with a separate PWCC listing for a BGS 9 Mint condition version of the card currently live on eBay for a buy-it-now price of $249,999.