Magic: The Gathering is getting a new comic book series later this year
First issue of Magic arriving in April.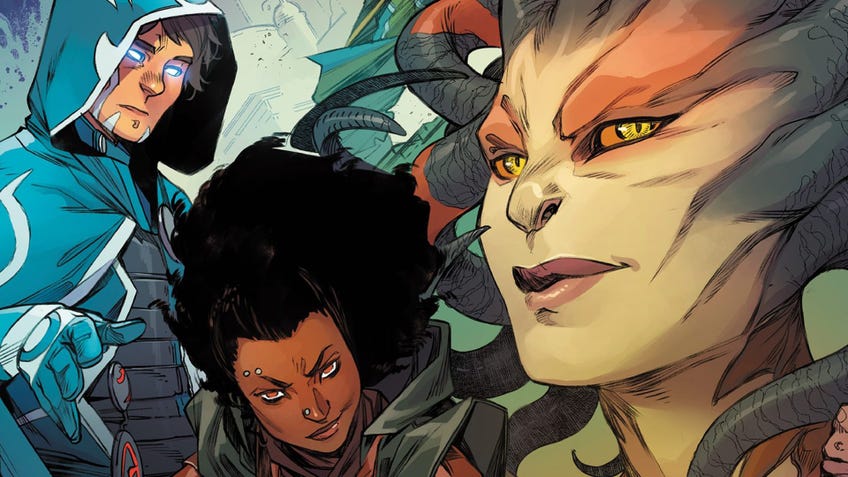 Magic: The Gathering is being adapted into an upcoming comic book series simply titled Magic, with the first issue debuting this spring.
Magic will be penned by Jed MacKay (Black Cat, Taskmaster) and illustrated by Ig Guara (Ghost-Spider, Batman: Arkham Knight), joined by colourist Arianna Consonni and letterer Ed Dukeshire. The series will be published by Boom! Studios, which has previously adapted pop culture mainstays Buffy the Vampire Slayer, Firefly and wrestling brand WWE as comic books.
The original series will focus on MTG's planeswalkers - the spell-casting characters from across the trading card game's multiverse - in the wake of assassination attempts on Ral Zarek, Vraska and Kaya, guildmasters in Ravnica, that leave fan-favourite planeswalker Jace Beleren in mortal peril and the city-plane itself in danger.
According to the announcement, the series will follow the three planeswalkers as they team up to infiltrate the mana-rich plane of Zendikar - most recently seen in last year's Zendikar Rising set - to uncover the conspiracy, with the description teasing the involvement of "one of the most enigmatic characters in Magic history".
The first issue of Magic will be released in April. The physical edition will only be available in local comic book shops and via Boom!'s online store, with a digital version also available. Magic #1 will be available with both original and variant cover art, as well as in a set of 'Hidden Planeswalker' variant covers featuring familiar MTG planeswalkers Liliana Vess, Kaya the Ghost Assassin and Sorin Markov.
A limited-edition Magic Pack will include a copy of the main cover, a random Hidden Planeswalker variant and an exclusive variant by Mercy artist Mirka Andolfo, along with a blank sketch cover.
Magic is the latest attempt to adapt MTG for comics, following a number of previous series based on the card game - the most recent being a series of limited runs from IDW set in Ravnica and Theros. As well as being adapted for comics, the game also has an animated Netflix series in the works.