Magic: The Gathering's popular Commander format is getting a new reprint collection and its first full set
Commander Collection Green and Commander Legends landing this winter.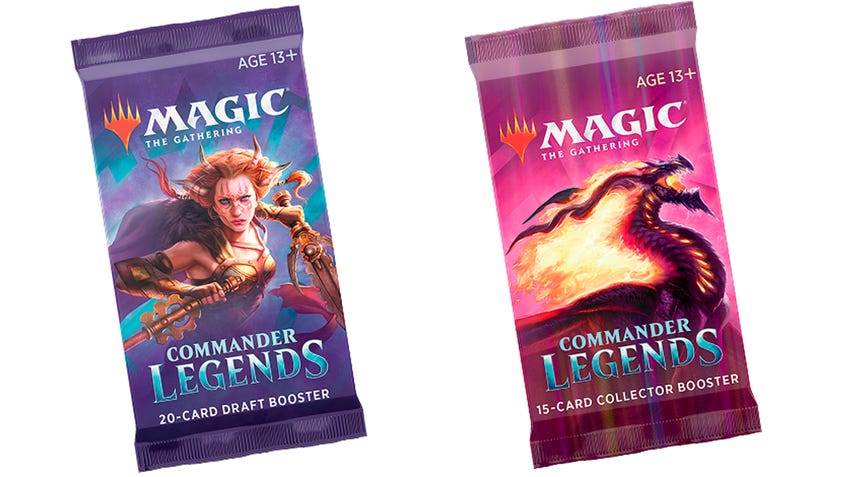 One of the most popular ways to play Magic: The Gathering, Commander format, is getting a new series of reprinted cards and its first full set later this year.
Commander sees players build a deck around a legendary creature or planeswalker - their commander - with only the mana colours on that card permitted in the 100-card deck. Only one copy of each card (except basic lands) is allowed. Players begin with 40 life points - twice the typical amount - and up to four people can play together in a match.
After starting life as fan-made variant Elder Dragon Highlander in 1996, Commander has seen official support from MTG maker Wizards of the Coast, including the release of cards specifically designed for multiplayer matches and pre-constructed decks built for use in the format.
This year will see the release of the first full set for Commander, Commander Legends. Originally announced last year, Commander Legends has now been given a release date of November 6th.
Commander Legends will include new rules for playing MTG's Draft format in Commander, with draft booster packs available for the set. The boosters will each include 20 cards, including two legends and a foil card. Collector boosters - MTG's more expensive packs including rarer cards - will also be available for the set.
Like recent release Double Masters, players will draft two cards per pick, looking to construct a deck of 60 cards. Unlike regular Commander, players can include multiple copies of the same card - the 'Singleton' rule doesn't apply in Draft.
Also new in Commander Legends are monocolour partners. Introduced in Commander 2016's set of pre-built decks for the format, partners allow two commanders and their respective colours to be used as long as they both have the Partner keyword. Commander Legends will see partner commanders with a single mana colour appear for the first time, introducing 41 new monocolour partners to MTG. In total, the set includes 70 legendary creatures.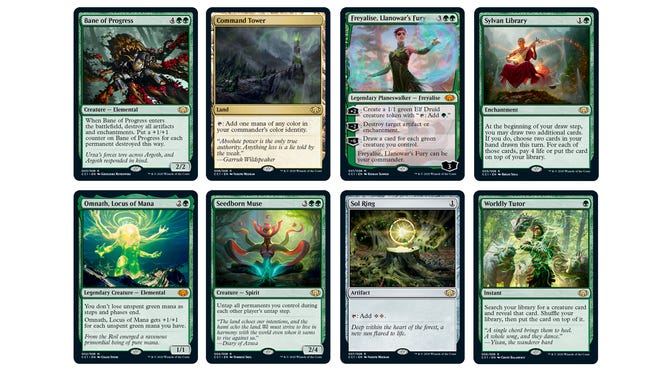 Following Commander Legends will be Commander Collection Green, the first in a new series of reprints focused on the format.
As the name suggests, Commander Collection Green will include eight Green cards: Freyalise, Llanowar's Fury, Omnath, Locus of Mana, Bane of Progress, Seedborn Muse, Sylvan Library, Worldly Tutor, Sol Ring and Command Tower. The cards will be available in both regular and foil versions.
Commander Collection Green will be released on December 5th, and will be exclusive to stores that are part of the Wizards Play Network (WPN). The foil set will only be available via WPN Premium retailers.