Majestic 13 sounds a lot like an XCOM miniatures game
Use Warhammer and other existing models in X-Files-inspired skirmishes against alien invaders.
A new miniatures skirmish game looks to bring the extraterrestrial action of video game series XCOM to the tabletop.
Majestic 13 puts players in control of a squad of five human operatives tasked with battling against alien invaders.
The game's campaign spans 18 scenarios that allow players to form their team from across the 13 different organisations that make up the titular secret agency.
As in XCOM, players must also manage their home base between missions, spending earned experience points to upgrade their soldiers' abilities and outfit them with new equipment. The base itself can be expanded and improved. Both in and out of combat, random Bureaucracy and FUBAR events will add additional challenge.
And, just like XCOM, operatives can also be killed during missions, needing to be replaced by clones from HQ. The game's creators, wargaming YouTubers-turned-designers Adam Loper and Vince Venturella, describe Majestic 13 as "punishing", with losses likely during each mission.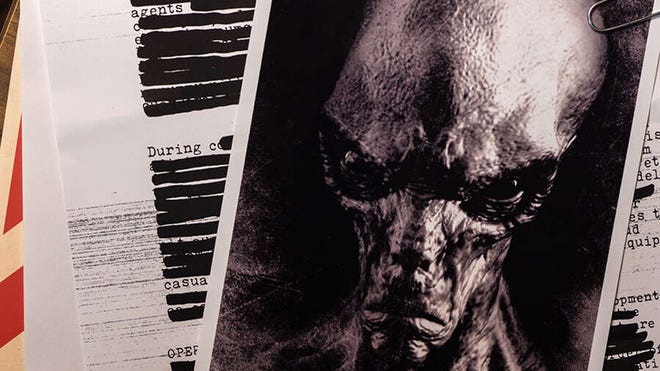 The soldiers will be up against alien creatures openly inspired by a mixture of XCOM and X-Files, with over two dozen monsters spanning the classes of Monstrosities, Ravagers and Stalkers.
"I grew up on shows like In Search Of with Leonard Nimoy and the X-Files," said Venturella. "This was a chance to really have fun with all the alien conspiracy theories while also integrating lots of unique mechanics into the game, such as the focus on Bureaucracy as something to be overcome in the course of your missions.
"I wanted players to really feel like they were part of the world of Majestic 13, so we built in elements like base-building, heavy character advancement in the campaign mode and, of course, cool technology your team can eventually get their hands on to help them in their mission to defend the Earth."
Scenarios include both special missions with a fixed setup and procedurally-generated encounters. As well as playing together in co-op or alone in a solo mode, players can choose to face each other in a competitive skirmish variant.
As with Loper and Venturella's previous releases through Snarling Badger Studios, Reign in Hell and Space Station Zero, Majestic 13 is a miniatures-agnostic ruleset - meaning that it's designed to be used with existing models, such as Warhammer or other "modern or near-future" figures. At 144 pages, it's the studio's biggest game to date.
The game is out now as a digital download and print-on-demand physical release, costing from $14 for the PDF.