Wingspan designer's next board game Mariposas has a release date
Flying off shelves next month.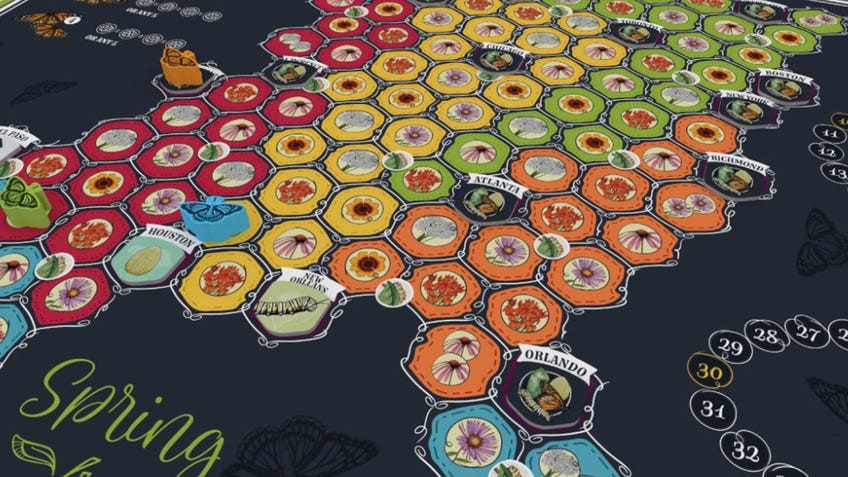 Butterfly migration board game Mariposas, the latest game designed by Wingspan creator Elizabeth Hargrave, has a release date - and it's next month.
The upcoming board game is inspired by the annual migration habits of the Monarch butterfly, which fly to North America and back to Mexico every year. There will be many dangers in store for players' intrepid insects; not all of them will make it back in time for the autumn season.
In Mariposas, two to five players move their butterflies across the board to have them migrate from South America to North America, returning to Mexico before winter. Each season - or round - consists of a varying number of turns, with spring providing players four turns, summer giving them five and a final six coming in autumn.
Players can choose to do a number of different actions each turn, including moving their butterflies by playing action cards, collecting whatever flower tokens their butterflies land on, breeding and hatching their butterflies into later generations, and landing on various waystations spread across the board.
Points are scored by completing seasonal goals, such as spreading butterflies across certain geographical areas, collecting wildflower tokens, perching butterflies on certain types of spaces and having different generations of butterflies on the board. Scoring takes place at the end of each season, with whoever has the most points at the end of the last season claiming the win.
Mariposas from Elizabeth Hargrave will be in stores worldwide August 28th in English! 12 additional languages by the Fall!

Don't miss this exciting new game of butterfly migration by the award-winning designer of Wingspan. pic.twitter.com/MM0BvfaRNc

— Alderac (@alderac) July 21, 2020
Mariposas follows Hargrave's debut board game Wingspan, widely acclaimed as one of the best board games of 2019 following its release last year. The game, which casts players as ornithologists attempting to create suitable habitats for as many different birds as possible, saw Hargrave collect 2019's Kennerspiel des Jahres - the prestigious German prize for 'Expert Game of the Year'.
According to Mariposas' rulebook, Hargrave was inspired to make the game after visiting a butterfly reserve in Michoacán, Mexico, deciding that the migration patterns of Monarch butterflies - which are quickly becoming an endangered species - would be a fitting subject for a board game.
Alderac Entertainment Group, the publisher behind co-op board game The Captain is Dead and card game series Smash Up, is set to release Mariposas worldwide on August 28th. The game will cost $50/£40.