Funko Pop! board game Mystery of the Thanostones is a collectible Marvel tabletop miniatures game
With an animated tie-in series in the works.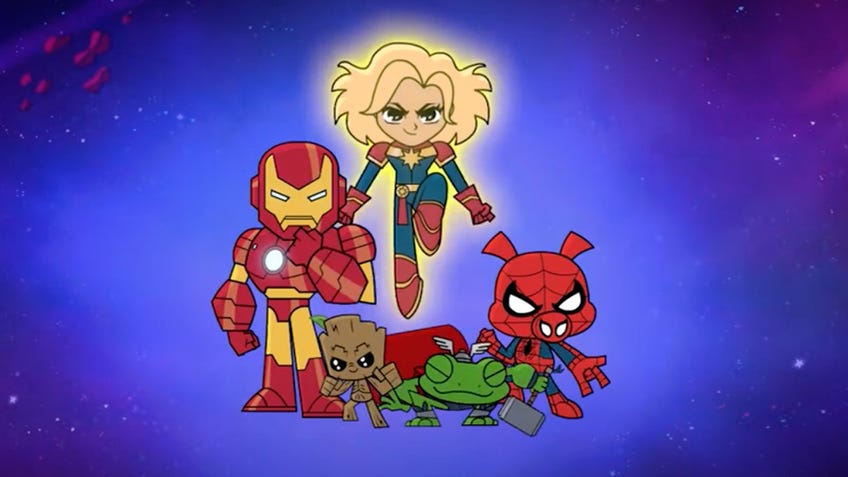 Pit Iron Man, Captain Marvel and other iconic Marvel superheroes against the might of Thanos in Marvel Battleworld: Mystery of the Thanostones, the next board game featuring Funko Pop! miniatures.
Based on the Marvel comic-book universe, Marvel Battleworld is a "micro collectible tabletop gaming system" from Funko - the company behind the hugely popular Funko Pop! line of vinyl figurines - that sees players facing off against Thanos as one of several possible Marvel superheroes and supporting characters.
Marvel Battleworld will be available in the form of 'battle balls', which will contain two collectible characters, hero cards, battle cards and a pair of dice to use in the upcoming board game. Marvel characters available in Marvel Battleworld battle balls include Iron Man, Groot, Captain Marvel, Valkyrie and Gamora in miniature form, alongside the cards they'll need to fight off Thanos and save the world.
An animated Marvel Battleworld tie-in series developed by Funko Animation Studios will be launching alongside the upcoming board game, expanding on the game's story of Thanos attempting to trap various Marvel heroes within Battleworld.
Marvel Battleworld: Mystery of the Thanostones follows several other tabletop titles from Funko Games, which so far have all been part of the Funkoverse Strategy series of board games. The beginner board game series includes entries based on Harry Potter, Batman and Rick and Morty, as well as movie board game instalments such as Jurassic Park and Jaws, both released this year.
The Funkoverse Strategy Game sees two to four players teaming and facing off against one another as iconic characters from pop culture. Once players have selected their characters - which can include pitting characters from different universes against each other - they then decide which actions they want to perform each round. With only two actions at their disposal, players will need to carefully choose whether to move, attack or use one of their character's unique special abilities to defeat their opponents.
Marvel Battleworld: Mystery of the Thanostones is set to be released sometime in June. In the US the upcoming board game will be exclusively available at retail chain Target, with a worldwide release date yet to be confirmed.