Decrypto and Stay Cool studio's next game Master Word is Codenames meets Mastermind
Releasing this month.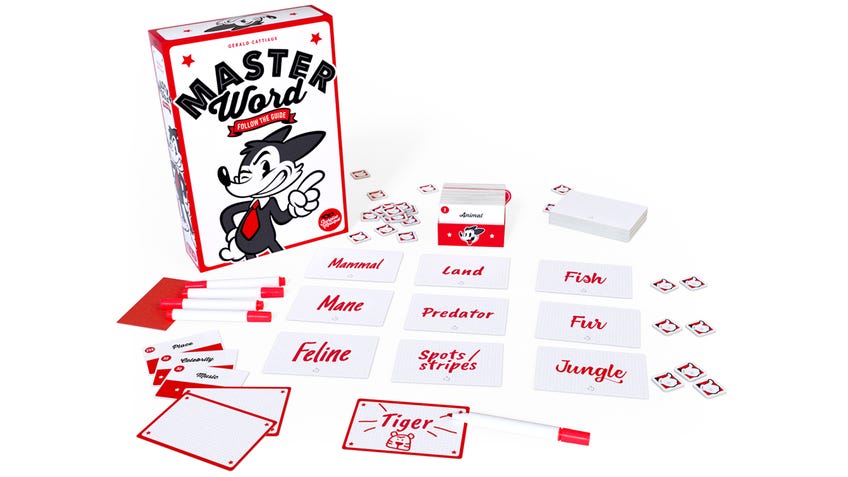 The studio behind head-scratchers Decrypto and Stay Cool has announced its next release, a word-guessing game that sounds like modern classic Codenames meets actual classic Mastermind.
Master Word sees one person - the 'guide' - draw a secret one-word answer card, before giving the group a single hint to set them off. The rest of the players then get 90 seconds to write down single-word guesses, which are revealed simultaneously each round.
The guide puts down tokens to indicate how many of the guesses correctly apply to the hidden answer, but is unable to speak or otherwise suggest which specific guesses are right. That is, aside from a single 'joker' token, which they can use to point at one specific clue card once during the entire game.
If any player writes down the exact answer before the end of the seventh round, the whole group wins together.
The combination of one-word clues - a la Codenames - and the gradual deducing of a hidden solution over multiple rounds - similar to seventies favourite Mastermind, but flipped into a co-op experience and swapping a colour code for a word - comes from the mind of first-time designer Gérald Cattiaux.
Publishing Master Word this month is Scorpion Masqué, the studio behind acclaimed word-guessing game Decrypto and frantic trivia game Stay Cool, as well as family-friendly legacy game Zombie Kidz Evolution - which will see a sequel, Zombie Teenz Evolution, released in October.
Master Word plays in around 15 minutes with between three and six people. The game includes 300 different clue cards that are said to increase in difficulty. A price and exact release date are yet to be announced.