Medici: Reformation is a new version of the original auction board game
Return of the Renaissance.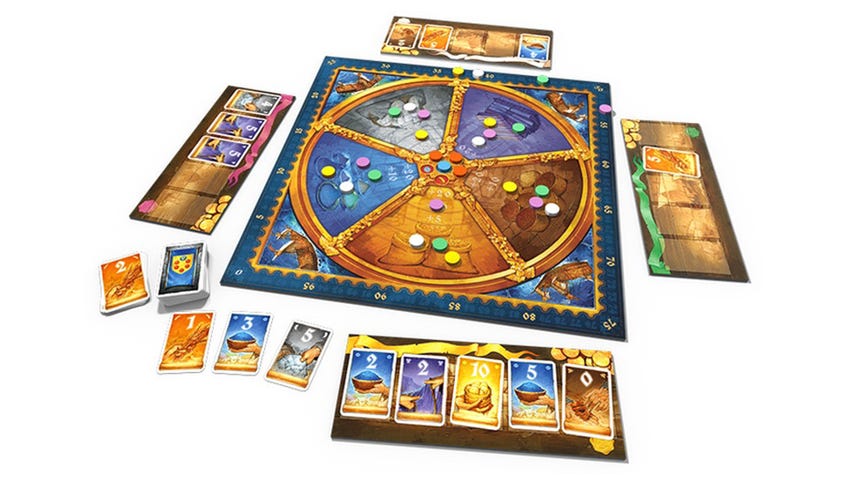 Revisit one of Reiner Knizia's most beloved board games with Medici: Reformation, a new version of the classic auction game with fresh mechanics.
Set a few years later than the original title, Medici: Reformation sees players becoming members of the infamous Italian noble family during the rise of historical religious figure, Martin Luther. Designed to be a standalone title, Reformation is similar to one of Knizia's other games - Yellow & Yangtze - in that it revisits mechanics that the designer has already implemented in previous releases alongside new elements.
In the case of Reformation, players will be collecting goods via auction and looking to gather monopolies over certain products - just as they do in the first game - but they'll also be managing where they'll be placing items in their ships. Unlike the original, each player will have several holds to store their cargo in and must arrange a collection of tiles representing their goods in each level of their ship. Players can score additional points by placing their goods in a certain pattern across the various rows and columns of their holds.
There will also be several mini-expansions for Reformation included within the game's box, such as one focusing on the interactions between Italy's pope - who was a member of the Medici family at the time - and Martin Luther.
The original Medici is an auction board game for two to six players and sees players attempting to gather the most of one commodity each round. During every round, players will have the option to bid on various cards - each representing a different product - using their existing pool of points. Whichever player bids the most points will win the set of cards they're trying to gain. The player with the most points after three rounds is the winner of the game.
Knizia is responsible for creating Reformation - as well as spin-off titles Medici: The Card Game and Medici: The Dice Game - alongside the civilisation building game Tigris & Euphrates and the popular two-player title Lost Cities.
Medici: Reformation is being released by Grail Games, which is the publisher behind several other Knizia games, such as the upcoming Yellow & Yangtze: The Card Game, alongside the newly announced Silicon Valley by Tiny Epic Galaxies creator - Scott Almes.
According to the Grail Games live stream that the title was revealed on, the Kickstarter campaign for Medici: Reformation is set to be launched sometime next year. Pledge amounts for the game have yet to be confirmed.