Defend a city in Champions of Midgard creator's next game, Meeples & Monsters
Rowan in the right direction.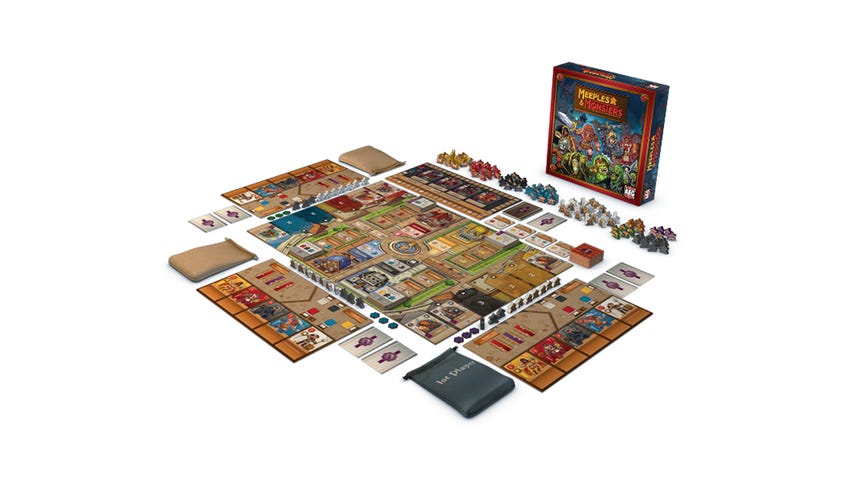 Protect a city from hordes of rampaging enemies in Meeples & Monsters, an upcoming board game from the creator of Champions of Midgard, Ole Steiness.
In Meeples & Monsters, two to four players take control of an army of meeples in anticipation of waves of beasties descending onto the peaceful city of Rowan. The fantasy board game will feature a variety of monsters for players to face off against, who become increasingly difficult as the game progresses. If players manage to defeat the incoming enemies they'll unlock new ways to use their meeples to better defend the city.
Preventing the monsters' approach will require players to use a whole host of different meeples alongside the selection of buildings that exist in Rowan. Whilst warriors and knights excel at fighting back enemies at close range, clerics and mages are far more accomplished at doing damage from a distance. Each turn will see players draw a certain amount of meeples from the bag - depending on whether they have any abilities that increase that number - before assigning those meeples to the tasks they're best suited for.
As a worker-placement game, players will need to be clever with where they place each of their meeples. By constructing new buildings in Rowan, players can open up more options for worker placement, as well as acquire new abilities. Improving options can help players complete the various quest cards they'll draw throughout the game, which will give players benefits both during and at the end of the game.
Apart from designing Meeples & Monsters and Champions of Midgard, Steiness is responsible for creating co-op board game Police Precinct - which has players taking control of their own police department to ensure that crimes are solved - as well as co-designing Wild West adventure game Spurs: A Tale in the Old West with Sean Brown, co-creator of Railways of the Western US.
Alderac Entertainment Group is the publisher behind the upcoming Meeples & Monsters, alongside the adorable city-building board game Tiny Towns, card game series Smash Up and veggie-themed set-collection game, Point Salad.
Meeples & Monsters is set to launch a Kickstarter campaign on March 2nd, with pledge amounts and estimated delivery dates yet to be confirmed by AEG.