MicroMacro's Sherlock-by-way-of-Where's Wally detective game returns to stores next month
Waldonnit?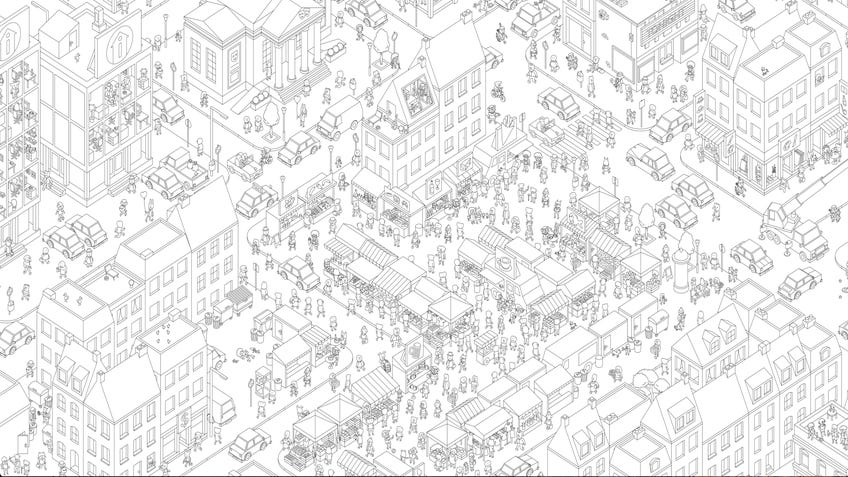 Track the adorable populace of a black-and-white city as they are mobbed, murdered and otherwise accosted by lawlessness in MicroMacro: Crime City, a cooperative detective board game.
Designer Johannes Sich, one of Hard Boiled Games' three illustrators, concepted the idea at Essen Spiel in 2016 as a smartphone-based hidden object game, a la Where's Wally? (Or Waldo, for those outside the UK.) Over the years, the smartphone was dropped as the titular city expanded and filled with characters until it was no longer feasible or fun to scroll through the bustling streets with fingers.
The final version released in October 2020 included a massive fold-out map of the city and 16 card-based cases for a team of private investigators to unravel. One player acts as lead investigator and reads the cards aloud to the others, who must search through the city for the victim first, then clues and evidence that will eventually pinpoint their culprit. Cards pose questions that gesture in the right direction without giving too much away, such as "Where did the suspect dump the murder weapon before entering his apartment?"
The map of Crime City isn't a static image but an overlapping tableau of chronological movement - each inhabitant can be tracked through a series of stops and actions, revealing a web of cause and effect between them and their neighbors. A big part of the fun is watching this thread gradually reveal itself from the seeming illustrated chaos.
Like its red-striped forebear, MicroMacro isn't meant to be especially challenging. The official site even recommends hanging the map on a wall and solving a quick game or two when friends visit (safely, please!) or you want to pass 15 minutes of free time.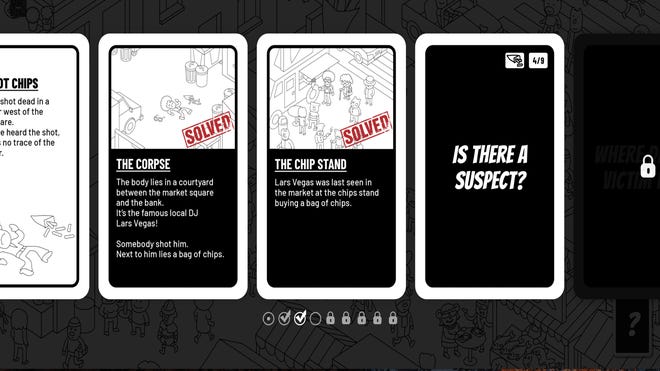 Those interested in the premise can play a short, free online demo that tackles the preview case of Lars Vegas' murder. The nine steps walk through the basics of every mission, from locating the scene of the crime and establishing motive to eventually finding the subject hiding among the city's buildings, sometimes in plain sight.
MicroMacro experienced production delays due to COVID-19 at the end of the year, delaying or halting shipment of online purchases to retailers and individuals. According to publisher Edition Spielwiese's Twitter, reprinting is ongoing and local game shops can expect more stock by mid-February.