Spiel des Jahres 2021 nominees: Here are this year's frontrunners for board gaming's biggest award
As well as the 'expert' Kennerspiel des Jahres and kid-friendly Kinderspiel.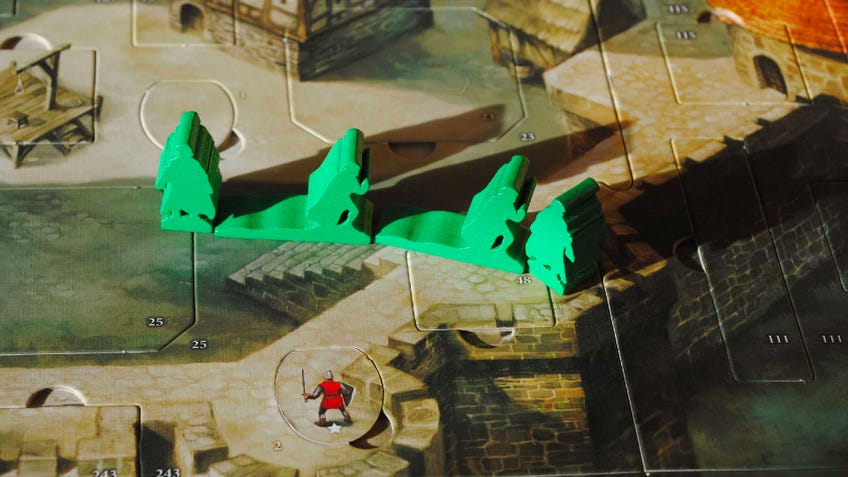 This year's nominations for the Spiel des Jahres - Germany's long-running 'Game of the Year' prize considered by many the highest accolade in the board game industry - have been announced.
For more than 40 years, the Spiel des Jahres has awarded a board game selected by a panel of judges that typically represents a combination of being innovative in its gameplay and accessible in its appeal to families. Past winners include Codenames, Catan, Azul, Ticket to Ride and, last year's winner, party game Pictures.
2021's Spiel des Jahres nominees are The Adventures of Robin Hood, Legends of Andor creator Michael Menzel's inventive co-op game set in a world brought to life by its evolving board; MicroMacro: Crime City - Johannes Sich's celebrated crime puzzler that uses a Where's Wally?-style foldout map - and Zombie Teenz Evolution, the sequel to the legacy game designed by Annick Lobet with younger players in mind.
Recommended for the Spiel des Jahres - effectively making the games runners-up but worth of recognition by the jury - were Dicebreaker-favourite card game Point Salad, number-counting challenge Biss 20, competitive mystery game The Key: Sabotage at Lucky Llama Land, the recent remake of co-op train game Switch & Signal and gem-arranging title Chakra.
Also announced were the nominations for the 2021 Kennerspiel des Jahres, the 'Expert Game of the Year' prize selected by the same jury but with a greater focus on more complex games than the Spiel des Jahres' family fare.
This year's Kennerspiel des Jahres shortlist comprises kingdom-building card game Fantasy Realms from Betrayal at House on the Hill designer Bruce Glassco, designers Mín and Elwen's mixture of deckbuilding and worker-placement in Lost Ruins of Arnak, and Paleo, the co-op adventure game set in the Stone Age.
Nominiert für das Spiel des Jahres 2021: Die Abenteuer des Robin Hood von Michael Menzel @KOSMOS_Verlag, MicroMacro CrimeCity von Johannes Sich @spielwiese @pegasusspiele, Zombie Teenz von Annick Lobet @Scorpionmasque #SdJ pic.twitter.com/7eed4USmlR

— Spiel des Jahres (@SpieldesJahres) May 17, 2021
Recommended for the Kennerspiel were four more games, including the beginner-friendly spin-off from co-op fantasy epic Gloomhaven, Jaws of the Lion; cooperative boss-battling deckbuilder Aeon's End; chunky resource-management game Barrage; and this year's two-player card-battler Riftforce.
Lastly, the nominations for this year's Kinderspiel des Jahres were revealed. Judged by a separate panel to the Spiel des Jahres and Kennerspiel, the 'Children's Game of the Year' looks at the best board games for kids from the last year or so.
This year's shortlist includes Dragomino - the simplified version of previous Spiel des jahres winner Kingdomino - detective game Mia London and the Case of the 625 Scoundrels from 7 Wonders creator (and former Spiel des Jahres winner) Antoine Bauza and co-designer Corentin Lebrat, and Storytailors, a colourful storytelling game that plays out in an actual book. Recommended for the Kinderspiel were Tapikékoi, Inspektor Nase, Dream Catcher, Käpt'n Kuller, Memo Friends, Swip'Sheep and the delightfully-titled Hipp Hopp Hippo.
The winners of the 2021 Spiel des Jahres and this year's Kennerspiel des Jahres will both be announced on July 19th. As usual, the Kinderspiel des Jahres will be awarded around a month earlier on June 14th.