Monopoly: Lifesized mixes escape room antics with the classic real estate board game
Money so big your little sibling can't steal it.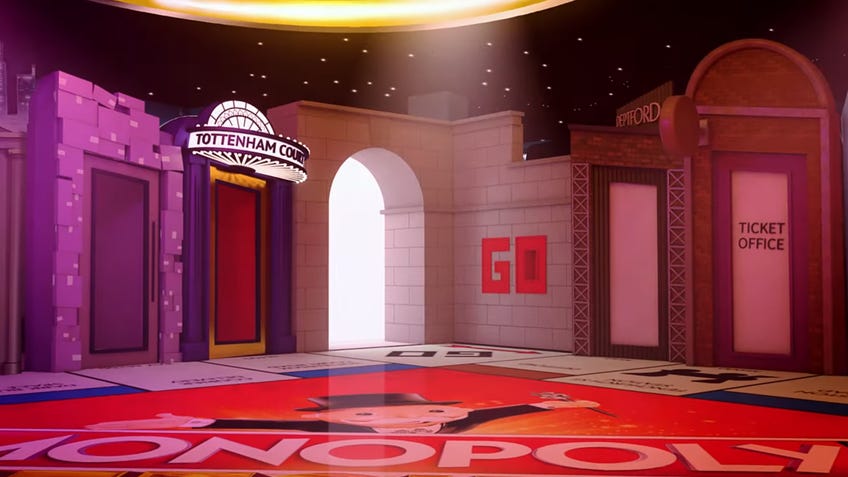 Monopoly, the ubiquitous family board game and universal sign that holiday dinner has entered its death throes, will become a series of hybrid escape rooms later this year that Londoners and tourists can visit downtown.
Announced May 12 by parent company Hasbro, Monopoly: Lifesized will fill three floors of a 22,000 square foot building in the city's West End and comprise four escape rooms styled after the board game's aesthetic or one of its many, many offshoots. The installation is a partnership between the publisher and Gamepath Entertainment, which works with brands to create "live, experiential gameplay", according to their Twitter.
The game feels much like its boxed source material, at least in the beginning. Four teams each choose a game piece to represent them from among the well-known metal icons and take their positions along a 225 square meter board. These tokens are also real people who will help teams keep score, remember rules and provide hints if necessary. On each team's turn, they will roll a die and advance their token along a truncated version of Monopoly's board, which contains several - but nowhere close to all - properties, utilities, train stations and both the Free Parking and Jail squares.
When someone lands on an unowned property square, events quickly deviate from those youthful evenings around the dining table. Each property has a corresponding room adjoining the main space where the team will take part in a game, challenge or some activity that they must overcome in order to purchase. Success nets them a source of income, while failure allows other teams an opportunity to bid for themselves. The challenges will reportedly be a hodge podge of mental riddles, physical puzzles or lightweight minigames themed appropriately to its property.
When not actively rolling, teams can acquire and use Chance Chest cards that open up a host of strategic moves, such as managing their amassed wealth or building houses and hotels on their property. The non-property squares all boast some special attribute that affect the flow of the game or empower a team occupying its space with unique abilities. For example, train stations will tax every other team for simply traversing the board and siphon all the revenue into the hands of the station's controller. It seems the designers have opted to bring over as much of the original experience as possible and adapted those rules that don't quite fit a life-sized version.
Games will take approximately 75 minutes to complete and can accommodate four teams of six players at its maximum. Groups can choose to compete on four different boards: the original flavour, a City Board that replicates several downtown London locations as its properties, a Vault Board where teams compete to rob Mr. Monopoly's bank and Junior board with puzzles and rules more suited to families with younger children.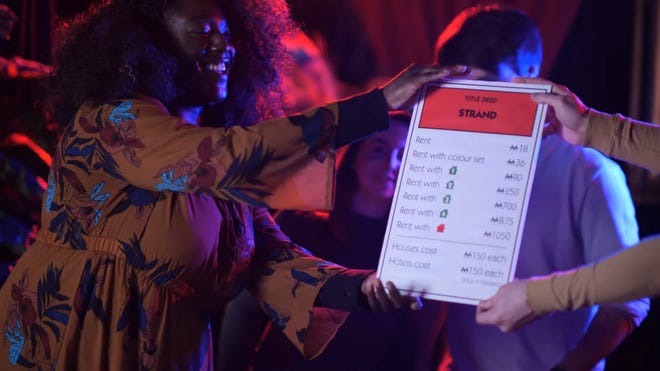 Attached to the main play area will be The Top Hap bar and restaurant that will sell a range of themed cocktails and a small plates menu, along with a gift shop replete with official merchandise from Monopoly and other games from the Hasbro catalogue.
The official Monopoly: Lifesized website breaks down the attractions COVID-19 safety rules and regulations, including a mask requirement for all participants and social distancing built into the design of the board and games. Additionally, hand sanitisation and temperature checks will be mandatory for all players and attraction staff. The website recommends teaming up with people inside your bubble of relative immunity, and management says they will change their safety guidelines to reflect any government updates.
Monopoly: Lifesized opens August 14 and is currently accepting ticket reservations throughout the rest of 2021.