Munchkin Dungeon, a new board game based on the hit party game, is out this week
Along with its first expansion, Side Quest.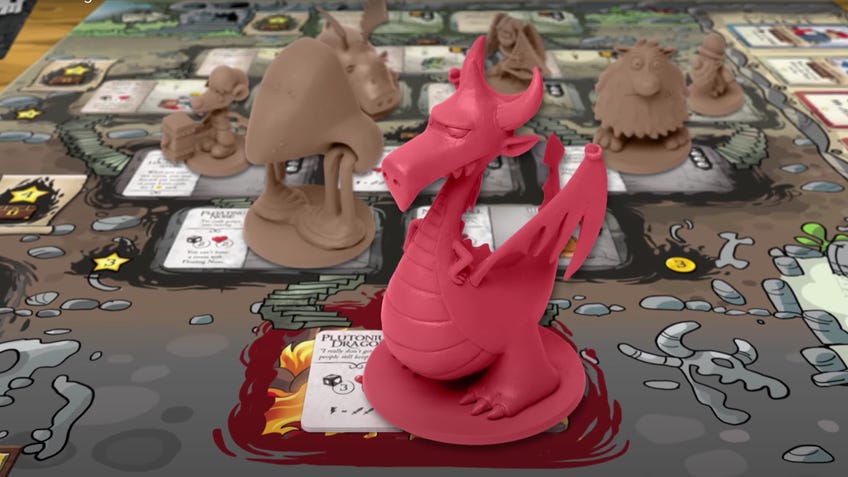 Chaotic card game Munchkin has a brand new board game, and it's out this week.
Munchkin Dungeon takes the dungeon-delving antics of Steve Jackson's popular party game and expands them into a dungeon-crawling board game.
As in the original, players must explore the dungeon, defeat monsters and obtain loot to gain levels and fame - the game's equivalent to victory points - kicking down doors and tripping up their fellow adventurers as they go.
Each character class has a unique set of abilities on its player dashboard, which can come in handy during the game's combat. Fights against monsters are resolved using die rolls, with successes leading to loot and levels and failure returning the player to the start of the dungeon.
Players can mess with each other by playing theat cards - paid for with a threat pool - to attempt to slow down their opponents as they move through each dungeon. The more rooms that a player passes through, the more they stand to gain - encouraging rivals to get in their way.
The levels are filled with a different assortment of monsters and a final boss, with the option to swap different foes in and out as you please due to its modular design. The game plays in around 80 minutes with two to five people.
Munchkin Dungeon has been designed by Eric Lang - of Blood Rage, Rising Sun, Ankh: Gods of Egypt and more - and Andrea Chiarvesio, the creator of dice game Kingsburg. Contributing the board game's art is long-time Munchkin illustrator John Kovalic, whose distinctive cartoons have become an iconic part of the card game. Publishing the game is Zombicide and Arcadia Quest studio CMON, in collaboration with Munchkin publisher Steve Jackson Games.
Alongside the Munchkin Dungeon core box, the game's first expansion, Side Quest, will also be released on July 17th. The expansion adds extra characters, monsters and quests, including achievement-like rewards for completing certain objectives.