Bid for spell components on the forest floor in the newest board game from the makers of Calico and Cascadia
Wingspan, Cascadia and Viticulture illustrator Beth Sobel portrays a fantastical forest of foxes.
Despite their size, board game publisher Flatout Games has produced an incredible track record of hits over the past four years - Cascadia and Calico both won prestigious industry awards, Point Salad is a Dicebreaker favourite and recent sequel Point City already seems like a worthy successor. Their newest project, a magical bidding game called Nocturne, could carry forward that winning streak.
Designed by David Iezzi and illustrated by the beloved tabletop artist Beth Sobel, Nocturne casts one to four players as anthropomorphic fox mystics collecting spell components from the forest floor as twilight gives way to dusk. It mixes a classic competitive bidding strategy with spatial puzzling as players attempt to one-up each other to nab the most powerful ingredients before their opponents.
Nocturne's basic structure is deceptively simple: players take turns casting spells on component tiles that comprise the gridded play area. These 'spells' are represented by numbered tokens in a player's specific colour - the higher the number, the more powerful the spell. Antes can keep raising until nobody can trump or choose to pass to the player in the lead. The winning player earns a component at the cost of their spell token, which remains on the board for the rest of the game.
Losers aren't completely out of luck, as they can choose to donate their spell token to the forest sprites for a chance to draft component tiles from a separate board. The pickings are slimmer, but it might be better than ending the round empty-handed. Play continues in this loop until all of the tiles have been collected, then everyone scores according to their personal goals in two flavours - Twilight and Moonlight. After two rounds, the player with the most points clinches victory.
Flatout Games says that the design of Nocturne should feel welcoming to less experienced board gamers while still offering hobbyists plenty to chew on between various victory paths and a supposedly heady mixture of long-term and short-term strategising.
"Nocturne is a really exciting new game for us. It's a deceptively deep game that has so much interesting player interaction. Since we agreed to make the game together it has been an amazing team effort testing and trying new things, fine-tuning all of the mechanics and bringing the setting of a magical forest to life!," Flatout said in an update to the crowdfunding campaign. "We wanted to make the game so that it was simple to get into and also affordable. We didn't feel it needed a lot of expensive bells and whistles or extra plastic parts - we just wanted to make a beautiful and high quality game for a low price that will have a place on your shelf for a very long time!"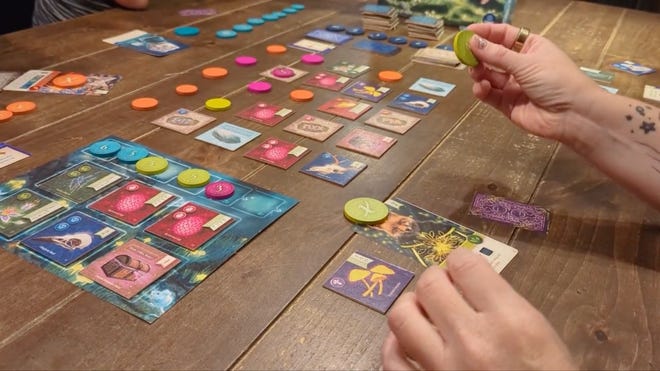 Flatout's development team includes Molly Johnson, Robert Melvin, Shawn Stankewich, and Dylan Mangini, who are joined by Fertessa Allyse as writer, editor and game developer. Iezzi comes from an established career with Funko Games, and Nocturne is his first original design. Stankewich will be creating a solo board game mode for Nocturne that will reportedly be ready before the game launches - he created the solo mode for Cascadia, which won the International Gamers Awards Solo Award in 2022.
The Kickstarter campaign for Nocturne runs through December 9th in order to fund a physical board game that is expected to ship in September 2024. A print-and-play version of the game will be ready for backers in December of this year, and Flatout has partnered with AEG to distribute Nocturne through traditional retail channels after the campaign ends.