Asymmetric narrative board game Now or Never announces a release date and new details
Pre-orders for studio Red Raven's latest open until August 16th.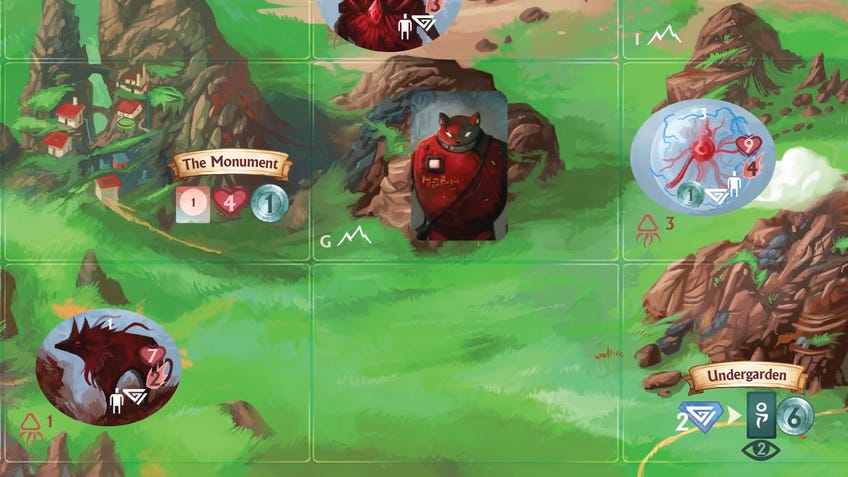 Asymmetric city builder Now or Never has announced a rough release date of late 2021, along with opening preorders for the upcoming third game in studio Red Raven's Arzium series of board games.
Red Raven announced June 8th that preorders for Now or Never, the third of designer Ryan Laukat's competitive titles with similar naming conventions, were live on the studio's website, accompanied by a fair bit more details than players had seen up to that point. Included there is a projected shipping date in "Q4 2021", with the caveat that shipping delays across the globe could change that plan further down the road.
Now or Never places four players in the shoes of travelers returning to their abandoned village generations after the events that comprise previous board game Near and Far. It's time to rebuild and fend off the last of the meteorite creatures that haunt the ruins, but only one will prove right for the job by rescuing hapless villagers and laying the foundation for a new and flourishing home.
Each of the four unique player characters sport a different set of abilities and moves that they use to stave off danger, rescue individuals and forge them into a community - this lends Now or Never an asymmetric edge to player interaction that rewards planning around opponents' strengths and weaknesses. But that's not to say it will always come to blows. In fact, players can hire the services of each others' specialists in order to complete difficult projects or make up for a lack of necessary resources. Such cooperation might help break through a tough scoring plateau but also puts valuable coins in the competitions pockets.
At its core, Now or Never is a city builder and rewards those who invest their resources in constructing shelters, workshops and other infrastructure for their budding village. The buildings on offer are chosen from a dense grid and must be penetrated from the outside in. The outside ring of choices might not provide an immediate reward but eventually allows access to valuable and "tech tree"-esque upgrades, according to Laukat.
Players can also approach Now or Never in story mode, exploring both sides of the game board using an included storybook and discover a bespoke narrative for all four characters. Much of the standard gameplay remains but allows for choices and interactions with the multiple locations across this part of Arzium to affect their ultimate outcome. It strives to portray the motivations of Marklun, Namal and the other travelers, while also letting players indulge in some storytelling of their own.
Red Raven is a three-person studio operated by Laukat and his spouse Malorie, a writer and developer in the crew, along with Brenna Asplund. The studio handles the three current titles in the Arzium series - including Above & Below and Nar & Far - and is concurrently releasing the chiefly narrative-focused board game Sleeping Gods, which successfully Kickstarted in 2019.
Now or Never's pre-order window will remain open until August 15th, according to a BoardGameGeek forum post from Laukat. Those interested can pick it up now for $60 (£43) from the studio's website, while retail copies will cost $70 (£50).