This new tabletop RPG is basically Untitled Goose Game
Prepare for the Honk-pocalypse.
A new tabletop roleplaying game sees players controlling a flock of geese terrorising a quiet town, in a similar fashion to the indie video game Untitled Goose Game.
One Honk Before Midnight is an upcoming TRPG that takes place in a world that has been invaded by a gaggle of angry geese. Similarly to Untitled Goose Game – an indie smash hit that released in 2019 and has players controlling a goose who's attempting to ruin as many people's days as possible – One Honk Before Midnight tasks players with spreading goose-based chaos across a local town.
The arrival of humans into the world of One Honk Before Midnight has upset the balance of nature and subsequently pissed a load of geese off. As one of these foul fowls, players will be re-establishing the dominance of geese by storming the idyllic town of Stafford-On-Gander and causing trouble. Players will be using the H.O.N.K. system to control their geese. A rules-light RPG game system, H.O.N.K. shares similarities with Dungeons & Dragons 5E and Apocalypse World but simplifies things.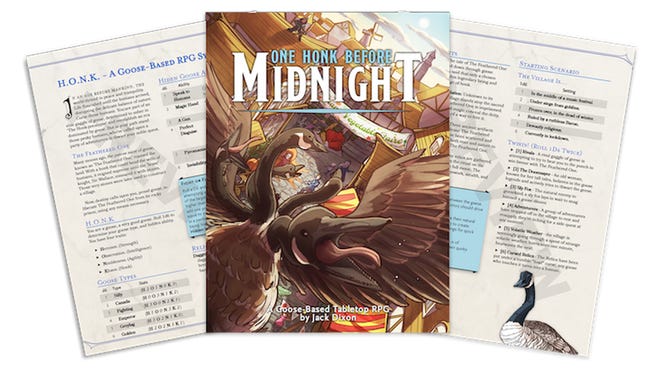 Player characters will have four main stats that define their goose-identity, heroism; observation; nimbleness; and khaos. Each of these statistics will enable players to perform various goose-based actions, with one person taking the role of GM – or Goose Master – and is in charge of narrating the game and controlling the other characters.
Once players have created their geese, they can send them out to cause havoc and ensure the return of the dreaded hydra goose, the Feathered One.
Watch on YouTube
Maddie highlights some of the best tabletop RPGs you can play right now.
One Honk Before Midnight was created by Jack Dixon, whose previous tabletop roleplaying game releases include the queer supplement series Adventuring with Pride and The Night of the Werebear, with artwork from Miranda (Clancy) Wacker.
A crowdfunding campaign for One Honk Before Midnight is currently on Kickstarter until December 4th, with a pledge of £15 ($19) getting backers a copy of the physical book in April 2024. Alternatively, a digital version of the game is available for a pledge of £8 ($10).