Operation was originally a desert survival board game called Death Valley
Cavity Sand.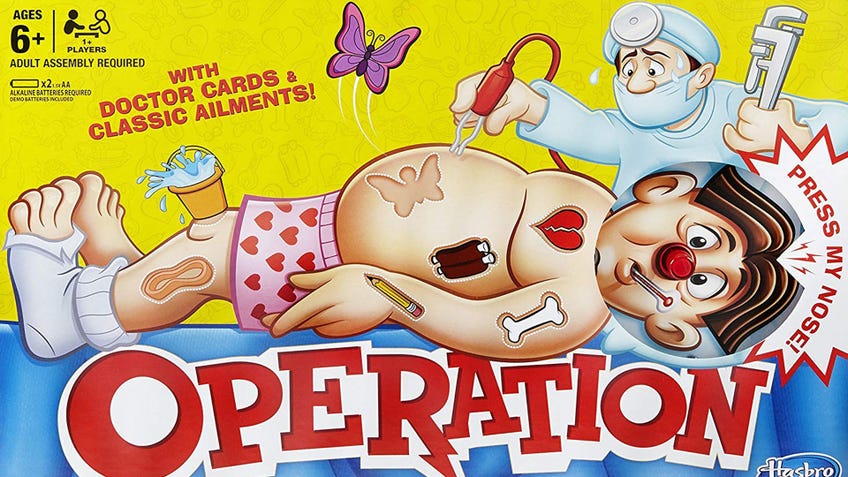 Operation originally involved no medical procedures or patient in a hospital bed, but a survival board game following a character lost in the desert.
Entitled Death Valley the game was conceptually created in the early 1960s by industrial design student John Spinello, and involved characters finding ways to live through a harsh environment of sand and intense sun.
To survive players had to move around the board and insert a metal probe into a collection of holes dotting the dunes, in the hope that they contained the precious resource of water. Successfully getting the water meant sliding the probe in without touching the sides, with a false move causing the iconic buzzer to sound.
After managing to sell the concept for $500, the full game unfortunately never surfaced but it did inspire another designer to create something similar. Several years later Mel Taft spotted the concept version of Death Valley and decided to experiment with the idea of making a game where players used a long metal tool. However, they decided that the game would work better if players had to use the tool to take pieces out, and if the theme was changed to something a little more relatable.
And lo, the mega board game franchise Operation was created.
However, according to Allison Marsh, associate professor of history at the University of South Carolina, this was far from the first instance of a game involving electrified tools. Operation's predecessors can be traced all the way back to the 1700s and a game designed by Benjamin Franklin called Treason, wherein players had to remove a crown from King George II's head.
Around the same time Spinello created his concept for Death Valley, another designer called Narayan Patel had developed four seperate games based on a very similar idea, with one offering a unique dexterity experience for the inebriated called How Much Do You Drink?
The history of Operation was researched for engineering magazine IEEE Spectrum's series on stories behind historical pieces of technology.