Roll bones like a real Viking with the physical Orlog game from Assassin's Creed: Valhalla
Only 500 being initially produced.
Assassin's Creed Valhalla fans who loved to squat in longhouses and over tree stumps for matches of the in-universe dice game Orlog can now pre-order their own premium physical set with all the bits and bobs, stones and bones included.
Publisher Ubisoft, collaborating with collectible production company PureArts Studio, has created what looks like a faithfully rendered version of the portable pastime the main character of the 2020 open world RPG video game carries with them. According to a press release, this initial run will be limited to 500 premium sets - all numbered - and will cost collectors or simply avid Orlog fans $199 (£142).
The set will include two sets of acrylic dice complete with the weapon and armour symbols seen in the game, along with wooden bowls for each. Polished stone health counters, metal tokens and a metal coin used as a turn tracker are also included. The linen game mat sports a cool sky-blue color with decorative edging, and the two storage bags feature the crossed hatchet Assassin symbol from the video game's marketing.
Perhaps the best looking pieces in the set are the matching set of 20 God Favor cards crafted from wood in the style of the in-game collectibles. They look wood-burned and aged, as if they've spent years or decades hefted in some traveler's knapsack as they crossed hills and oceans. Everything can be stored in a wooden storage box with molded liners on the inside for keeping everything organized.
Players have been asking for a real-world version of the side activity essentially since the video game released last year. Dicebreaker reported last year that the partnership was already in the works when speaking to co-dev game director Benoit Richer about creating their Viking's favourite non-raiding activity. Enjoyed in quick, 15-minute or so bursts and offering a realxing pace in contrast to burning churches and taking on upstart clan leaders, Orlog quickly caught on.
In Orlog, two combatants take turns rolling a handful of six-sided dice and selecting which results to hold back as actions - swords and arrows attack, helms and shields defend, and the deft hand steals coins from the pile. Players can amass their actions over a series of three throws before everything resolves and the turn passes. The first player to wipe out the other's health pool of polished stones wins.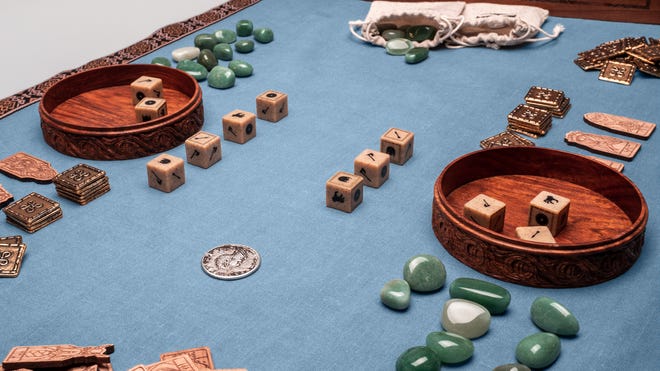 Those wooden God Favors act as special abilities that cost resources gathered from one of the dice's faces. When used, they call upon the power of their depicted god - Loki, Baldr, Thor and others - to enact dramatic changes to the match. Each player can equip three gods at the start and provide a fair bit of customization and unpredictability.
Those interested in securing one of the limited boxes in this first - and perhaps only - physical printing of Orlog can visit Pure Arts Studio's website. Delivery is estimated to begin in Q4 of 2021 and is only available in North and South America, meaning any Norse homelanders will not be able to snag a box.