'Dungeon-scrawler' Paper Dungeons has players adventuring in a roll-and-write
The pen is mightier than the sword.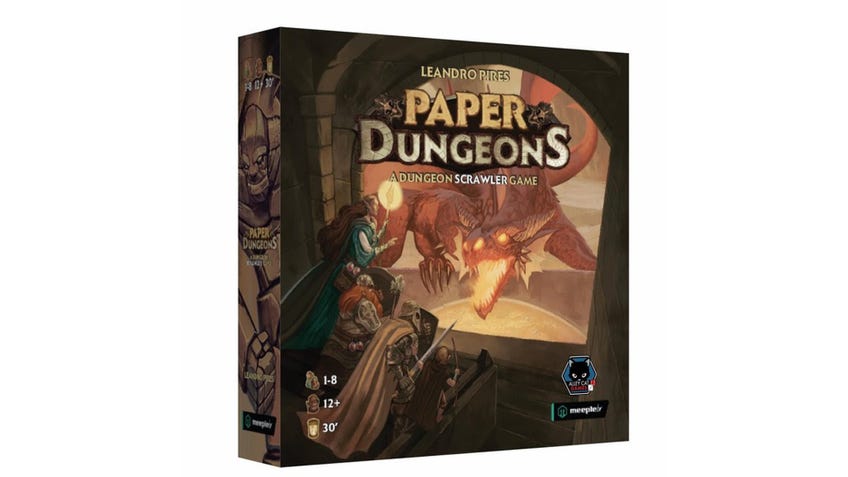 Search for magic items and battle fearsome monsters by drawing a path through each room in the upcoming English-language version of roll-and-write Paper Dungeons: A Dungeon Scrawler Game.
Inspired by classic fantasy RPGs such as Dungeons & Dragons and Pathfinder, Paper Dungeons is a game about exploring dark places and finding treasure. A game for one to eight players, Paper Dungeons challenges players to command their very own party of adventures through perilous ruins to gather enough glory to swipe victory from their rivals.
Paper Dungeons is a roll-and-write game - meaning that players roll some dice and select which results to fill their scoresheet with - where the scoresheet is the very dungeon their party is exploring. All player turns are taken simultaneously, with one player beginning each of the game's eight rounds by rolling six dice. Players then have the option to choose from three of the dice results to use in order to perform actions on their scoresheet. Possible actions in the game include moving, levelling up, preparing potions and crafting magical items.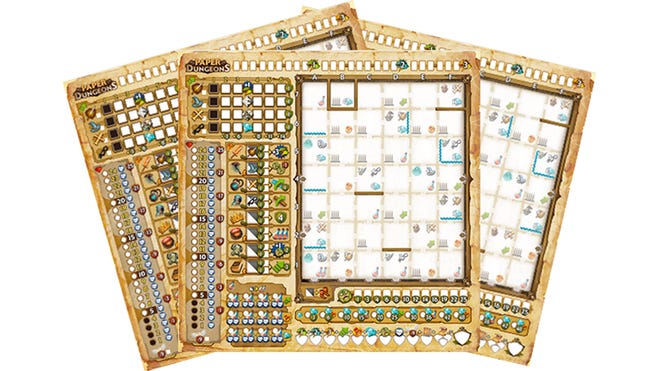 Players also have the option of using their special abilities during their turns, with every player receiving two randomly chosen ability cards at the start of the game. By levelling up, a player can acquire additional special abilities to help their party defeat any monsters they come across. Crafting magical items also grants a player party special abilities, which are designed to aid in moving through the dungeon. Alternatively, players can decide to prepare potions, which help your party members regain precious health points.
As a dungeon-crawling game, the path a player decides to take through their dungeon is important as well - with certain missions requiring players to find particular items or treasures to gain glory. They'll also have to look out for deadly traps and monster ambushes as well, lest their party of adventurers suffer defeat. Whichever player has the most glory at the end of the game is named the winner.
Paper Dungeons was created by Leandro Pires, the designer behind competitive fish-buying game Tsukiji and worker-placement game Rock 'n' Roll Manager. The title was originally published by Meeple BR Jogos, with Alley Cat Games - the publisher responsible for Dice Hospital and Chocolate Factory - taking charge of the English-language release.
The release date for the English-language version of Paper Dungeons: A Dungeon Scrawler Game is yet to be confirmed, with a general release slated for later this year.