Pathfinder and Starfinder RPG books will be more expensive starting next year
Publisher Paizo announces a price increase for all but core sourcebooks due to "economic factors like inflation"
Tabletop RPGs supplements are not immune to inflation, at least not according to Pathfinder and Starfinder publisher Paizo. The Washington-based company announced that the cost of printed scenarios, quests and other accessories would increase slightly starting in April 2024 and would retroactively apply to some, but not all, of its products.
Paizo published details on October 18th via its official community blog, saying that the hike in costs was a necessity that nobody enjoys. "Paizo is not immune to economic factors like inflation, nor industry-wide fluctuations in cost-of-goods, labor, or shipping and logistics, and we must periodically adjust our prices to reflect rising costs," wrote president Jim Butler.
One note before we get into the full price changes: Paizo will not be changing the cost of its core sourcebooks for either tabletop RPG - Player Cores, GM Cores and the Monster Core - which will remain at $59.99 "through at least the first printing," according to Butler. The company realises these titles are critical entry points into the hobby for new players and do not want to price anyone out, especially as Starfinder gears up for its second edition core books next year.
Bounties and Quests will increase from $4.99 to $5.99 starting in April. These small, roughly 2-hour long digital adventures are normally purchased directly from Paizo's website and make up a strong section of their non-Pathfinder and Starfinder Society offerings.
Speaking of, Society adventures for both tabletop RPGs will receive a standardised price of $8.99, regardless of character level or difficulty. Previously, Paizo sold lower-level adventures - which reportedly took less work to create compared to higher-level content - for less, but April's big price increase will flatten those disparities. Interactive scenarios will increase to $19.99.
Beyond the core sourcebooks, hardcover releases for Pathfinder and Starfinder will adhere to a new payment structure determined by their page count, as opposed to Paizo's previous system of using MSRP for each separate release. Special edition covers on the below examples will reportedly add an additional $20 to the listed price.
128-page book: $44.99
192-page book: $59.99
256-page book: $69.99
304-page book: $79.99
Examples of changes to accessories and other products include a $3 increase to the 96-page Adventure Paths and flip-mats ($30 and $20, respectively, while the flip-mat multi-pack will increase by $5 to a $30 total.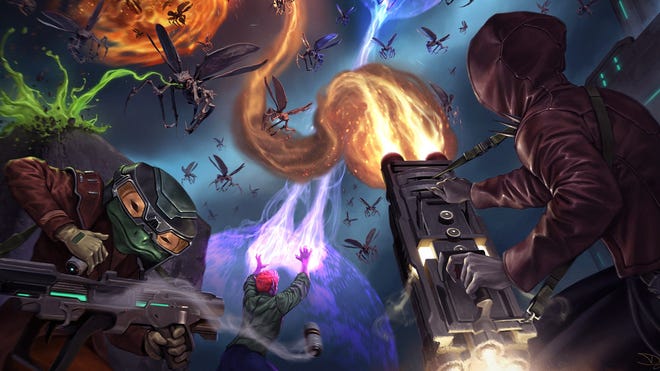 On a more positive note, Butler outlined some of the ecological improvements that the company will undergo or continue heading into next year. Paizo will change their printed products to use Forest Stewardship Council (FSC) certified paper, which ensures that the trees felled to produce it were sourced ecologically from sources that prohibit deforestation. These sources must also protect old forest growth, which is critical to biodiversity and extremely difficult to replace once cleared.
Butler explained that switching to fully recycled paper would be prohibitively expensive and would change both the look and feel of Paizo's printed books. Instead, their FSC-sourced paper used a mixture of new and recycled paper in their production. Paizo plans to switch over to starch peanuts and air pockets for shipping, along with swapping foam inserts for cardboard in an effort to reduce oil-based materials and increase the amount of recycled paper in their packaging materials.
Pathfinder and Starfinder's pricing changes will go into effect starting with new products released in April 2024, and retroactive pricing will shortly follow suit. A representative of United Paizo Workers provided Dicebreaker with a statement regarding the price increase:
"We're glad to see Paizo making changes to improve the environmental sustainability of our products, and to be moving away from Uline as our shipping supplier. We encourage Paizo leadership to continue to make consumer-friendly choices like this in the future. We don't have any comment on the price increases or how they will affect workers," the represenative said."