Pokémon's new animated series Path to the Peak is a charming introduction to the trading card game
A short but sweet inspiring tale of taking your TCG talents to the next level.
The Pokémon anime has diversified itself greatly in recent years. The adventure of Ash Ketchum and Pikachu is ubiquitous - and aside from one or two exceptions it wasn't general policy to try and tell Pokémon stories beyond that except in manga and video game form, or bring in new teams beyond the trusted anime studio OLM to bring these worlds to life. Which was a shame when there was so much potential in this world. That changed in 2013 with Pokémon Origins, which kicked off a number of web animated series and one-off specials and even saw the likes of WIT Studio being brought in to make its own movie, The Power of Us.
The Power of Us was a genuine attempt to move beyond the world of Ash, whether that be in alternate-world retellings or new stories with different characters altogether. A successful one too, considering now even the main series has chosen to move on from the kid from Pallet Town. Still, these new stories always felt like they were only expanding the world of the video games; Twilight Wings was a side-series set in Sword and Shield's Galar Region, with Hisuian Snow doing the same for Legends: Arceus and Hisui.
Until now. Announced during the recent Pokémon Presents and given a special world premiere at the Pokémon World Championships, Path to the Peak is set in our world, centred on a young girl who loves Pokémon and joins a TCG club that sets her on the path to becoming a World Champion.
Being at a World Championships where this exact story was to play out, we had to check it out for ourselves. While the first two episodes are currently online at the time of writing, we received an early sneak peek at the entire series during our preview, showcasing an entertaining experience aimed at younger audiences interested in broadening their horizons from the video game to the Pokémon TCG with an inspiring story.
Path to the Peak showcases an entertaining experience aimed at younger audiences interested in broadening their horizons from the video game to the Pokémon TCG with an inspiring story.
The story follows a young girl named Ava who moves to a new town with her parents and rather astoundingly fails to make friends on club week by almost killing half of her class from her misdeeds at beekeeping, archery and more. Still, the Pokémon club is interested in her, and it's by joining she meets an enthusiastic boy named Joshua who introduces her to the card game. She runs home to get her mother's cards found in the move and, with love for her Oddish, tries to grow her skills from amateur to world champion.
Path to the Peak is animated by Taiko Studios, a studio based in China and Los Angeles founded by the series' director, Shaofu Zhang, who produced and wrote the charming Academy Award-nominated short One Small Step. Meanwhile, experienced animation writer on everything from Teenage Mutant Ninja Turtles to Scooby-Doo, Benjamin Townsend, serves as lead writer.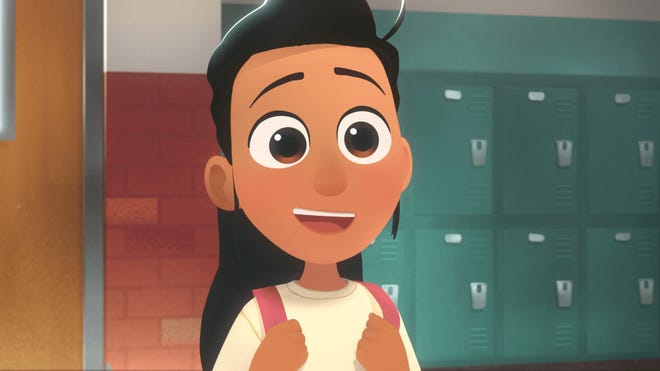 In a pre-introduction to the screening it was explained the series was pitched by Taiko Studios followed by the inspiring events of the 2019 World Championships, earning the support of The Pokémon Company's top brass - who were also at the premiere to show their support alongside Zhang. Prior to Path to the Peak the team had worked on one other short, shown as a preamble to our screening: the funny and adorable dialogue-free Bidoof's Big Stand.
Talent from across the industry was brought in to assist. Episode two was perhaps the strongest of all four episodes, establishing Ava's talent and determination in a believable manner. The episode was storyboarded with the talent of Murder of Sonic the Hedgehog writer and Sonic comic contributor Ian Mutchler, alongside contributions by Caroline Director, Amelia Hudkins, Kiana Khansmith and Megan Lawton.
The series' greatest elevation comes from its characters.
The series' greatest elevation comes from its characters. Not only are each distinct both visually and in their characterisation, with Ava being a very confident girl speaking her mind and letting her heart guide her play, alongside the all-too-enthusiastic Joshua. The rival-turned-friend growth of Celestine, whose pink-haired, gothic, older appearance and intimidating Misdreavus offer perfect contrast in a tough-yet-caring demeanour. That's before we talk about a certain World Champion whose groupies proclaim the prodigy as someone who "doesn't follow the meta - he IS the meta".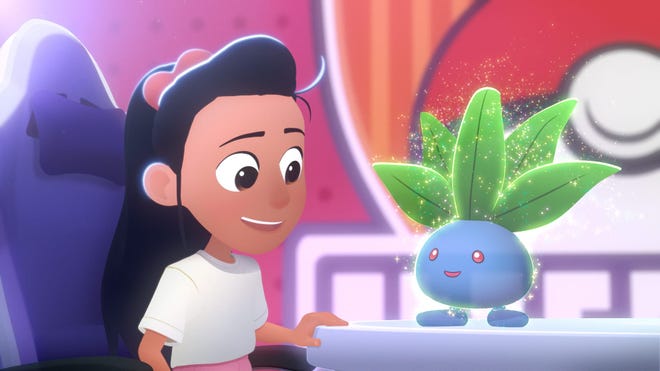 Path to the Peak has a younger target audience, which becomes clear in how the story plays out. The journey isn't a surprising one, with a conclusion that can likely be telegraphed by the readers here without explicitly spoiling it for everyone. It isn't going for something with too much depth in its 40-minute runtime across four episodes or overcomplicating proceedings, either. The sudden growth of Ava's talent is another aspect that perhaps may not play out in reality.
For a younger audience perhaps looking to get into the Pokémon TCG, the series is perfect.
Then again, does that really matter? The reasons we play card games are the friends we make and the thrill of victory and defeat in the heat of the moment. Thanks to abstraction from the game board into the dark woods and brightly-lit stages, you feel like you're going along with this young girl on this journey to be the best (like no-one ever was). Ultimately the series wants to capture the emotion of fighting with friends for the world crown. After seeing some of these dynamics in person at the actual championships, it's hard to say the series is doing a disservice.
One thing worth noting, as a series promising to stick closely to the rules of the Pokémon TCG and the scenes around it, is how Path to the Peak at times fudges the card game's rules for the sake of story. It's never anything egregious (it's easy to lose track of the few times the series plays with HP on Pokémon thanks to the flashy animation and voiceover dictating events), but is at least worth noting when the series is grounded in the real game rather than the fantastical world of Pokémon. Certain Pokémon in the series also don't have real-world equivalents, but that could just be to allow certain creatures to star in the series or a cheeky hint towards future sets.
It's not going to challenge an older audience, but will still be enjoyable for them. As the series went on I felt so invested in Ava's journey that I thrust my fist in celebration at every successful play as we inched towards her battles on the biggest stage of all. To attach to these characters in such a short space of time is something that must be commended.
While it may be an enjoyable distraction for anyone with an interest in Pokémon, for a younger audience perhaps looking to get into the Pokémon TCG? The series is perfect. That could be a blessing and a curse; put this in front of an impressionable kid, and before you know it they could be the one amassing a worryingly-large collection of cards while you jet them off on their own World Championship challenge, following in Ava's footsteps.