Underdog Vance Kelley becomes Pokémon TCG champion as international players dominate card game's first Worlds in Japan
Kelley defeated experienced pro Tord Reklev during overtime.
The most talented players in the world of Pokémon recently descended on Yokohama, Japan to compete in the Pokémon World Championships 2023, with underdog Vance Kelley denying veteran trainer Tord Reklev an almost-unprecedented collection of national, international and world championship titles.
Following an intense two days of competition that whittled down thousands of invited competitors to a select few, staged finals for all age divisions of the Pokémon competitive scene took place on Sunday in front of a crowd of thousands both in-person and online.
Starting with the Juniors division, limited to players born in 2010 or later, Shao Tong Yen's Lost Zone deck overcame a stiff challenge from Brazilian regional champion Borges Torres, finishing the second duel with a victory-sealing attack from the player's beloved Kyogre.
In the Senior division, fellow Brazilian Gabriel Fernandez successfully took revenge for his fallen countrymate by successfully piloting a colourless variant of a Lugia V build to victory over an Arceus Giratina build piloted by Sydney de Cordior in a 2-0 victory.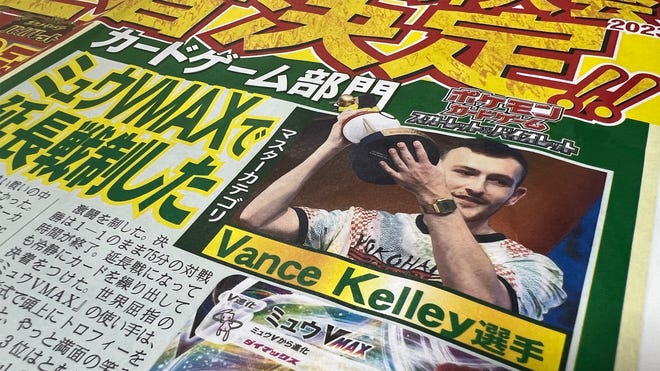 In the Masters Division, a close match was held between the Mew V Max deck of Vance Kelley and the Gardevoir deck of the experienced Tord Reklev. In contrast to Kelley's relatively underdog status coming into this year's Worlds, having previously peaked with 15th place at the North America International Championships in 2019 - a tournament at which Kelley placed 44th just earlier this year - Reklev is a former regional and European champion who placed second at this year's European Championships and made Top 4 at the 2019 World Championships.
In a methodically-paced, intense matchup between the two master players, the final was evenly-tied at 1-1 when the second game ended with just seven minutes left on the clock, taking the final game of the match to time proceedings that Kelley's fast-paced Mew deck was able to seal on a prize card victory to take the trophy.
All the pieces came together perfectly in this final turn for Vance Kelley! pic.twitter.com/oS9TCOz9tN

— Pokémon TCG @ #PokemonWorlds (@PokemonTCG) August 13, 2023
Elsewhere, Team Luminosity were crowned two-time consecutive world champions in Pokémon Unite while ItsAXN claimed the top spot in the finals of Pokémon Go. In the video game competition, Sora Ebisawa, Tomoya Ogawa and Shohei Kimura completed an all-Japan sweep in the Junior, Senior and Master competitions respectively, fitting for the event's presence in the home of the game - the first time the World Championships have been held in Japan.
All these players will be hoping to defend their crown at next year's Pokémon World Championships in Honolulu.