Puerto Rico 1897, pulled from shelves after a disastrous launch, will receive a corrected edition this autumn
Publisher Ravensburger confirms new box will include updated rulebook, missing tiles and added building text.
Puerto Rico 1897, the decolonised revamp of the contentious classic board game, will see a re-release later this year following its disastrous original launch.
Puerto Rico 1897 was announced last year as an update to Andreas Seyfarth's 2002 board game in which players take the role of colonial governors on the Caribbean island during the 19th century. In the original game, players grow crops on their plantations and invest in new buildings in order to try and amass the most profit.
The 2002 game has since seen widespread criticism as the result of its colonialist themes, as well as its exclusion of Indigenous inhabitants of the island and ignorance of the role that slavery played on plantations such as those controlled by the players' characters. In the game, players acquire and assign workers referred to in-game as "colonists", and represented by brown discs, to their buildings in order to produce money and points. (Later editions removed the colonists' arrival by ship, and changed the component colour to purple.)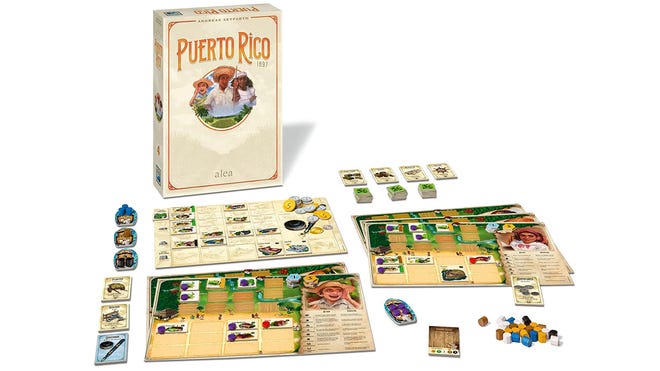 Puerto Rico 1897 explicitly sought to update the game's theme to a later period of time, after the island had abolished slavery and claimed back its autonomy from Spanish colonisers. (And before the United States subsequently took control of the territory in 1898.) Publisher Ravensburger acknowledged the original game's "themes of colonialism", confirming that 1897 would be designed in collaboration with "a culturally diverse and representative team", including Puerto Rican cultural consultant Jason Perez.
Puerto Rico 1897 debuted at German board game convention Essen Spiel in October 2022, followed by a retail release in Europe at the end of the year and a US launch in February of this year. The game's release was beset by complaints of missing components - notably four fruit tiles and half the coffee tiles needed to play - and production oversights, including rulebook errors and text missing from building tiles that explained their unique effects. (Thanks, BoardGameGeek.)
Ravensburger subsequently apologised for the problems, announcing that it had halted production of the game in order to correct the number of tiles and rulebook mistakes. In the meantime, the publisher allowed owners of the new edition to request the missing coffee tiles via its website.
Now, Ravensburger has released its updated rulebook for Puerto Rico 1897 - including corrected building effects - as a digital PDF, ahead of a re-release for the game via retailers this autumn. As per BoardGameGeek, as well as the fixed rules, the set will include the correct number of coffee and fruit tiles, along with text explaining buildings' effects on the tiles themselves.