Radlands teases competitive card action in a neon wasteland
Kickstarter coming January 26th.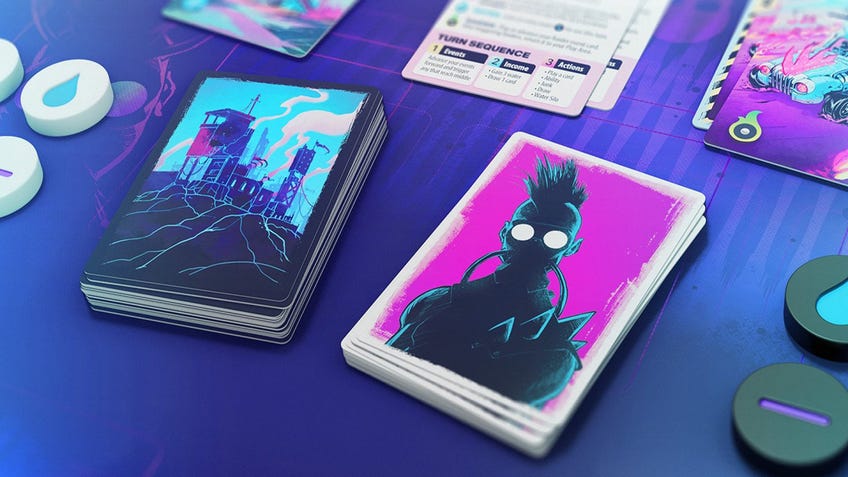 A short teaser video for Radlands has offered the first look at the next competitive card title from Dice Throne, Brass and Santorini studio Roxley Games.
Radlands' official website describes it as an "intense dueling card game" designed by former Magic: The Gathering developer and Australian Scrabble champ Daniel Piechnick. Roxley has apparently been tinkering with this title for the past two years and finally feels ready to bring it to the public.
Not much is currently known about how the game plays. Matches can take between 10 and 30 minutes and pits two players against each other as rival tribes of post-nuclear survivors struggling to control a vital well spring. Roxley claims to have emphasised synergistic card strategies and a set of rules that hits the sweet spot of both easy to understand and complex enough for deep strategising.
The physical game, coming to a Kickstarter campaign on January 26th, comes with two flexible playmats, a slim box that houses the entire game, two decks of cards and water tokens for both competitors. The cards feature a striking art style that merges a dieselpunk aesthetic with neon watercolours, resulting in a hazy, dreamy window into a cruel but stylish world. Artists Manny Trembley, Damien Mammoliti and Gavan Brown provided illustration and graphic design for the game.
Radlands is the latest game from the designer and publisher, following the successful Kickstarter campaign for steam-and-gears racing board game Steampunk Rally Fusion in 2020. The upcoming title is yet to be given a release date or price.