Scientist-racing board game Steampunk Rally gets a standalone sequel set on Mars
Space race.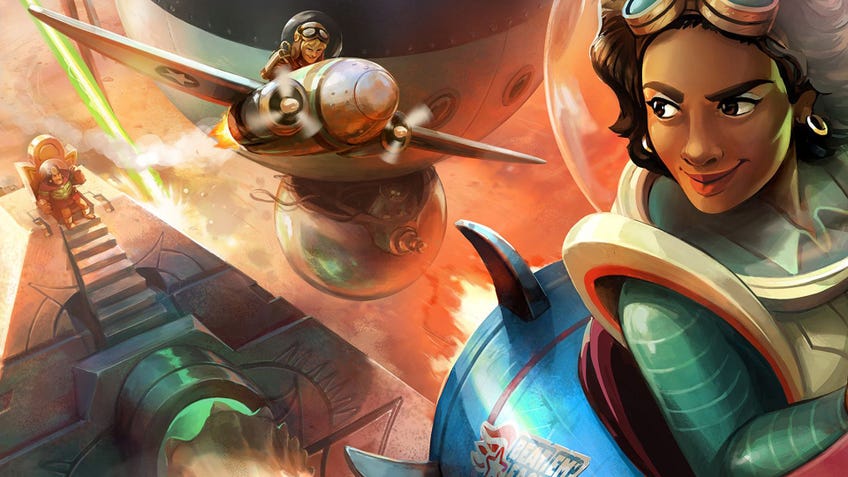 Create an incredible driving machine and outpace your scientific rivals in Steampunk Rally Fusion, the standalone sequel to the dice-powered racing board game.
The original Steampunk rally is a bizarre family board game for two to eight players that challenges players to outrace famous scientists such as Nikoli Tesla and Maire Curie in a dangerous rally through the Swiss Alps.
Using various machine parts, players can continuously upgrade their vehicle during the race - providing additional speed, movement, shielding and more benefits - that they can then activate by rolling dice and getting the right results. Machine parts and cogs can be discarded to provide the player with an additional boost to get them ahead of their opponents, but they'll have to be careful to avoid taking too much damage.
With Steampunk Rally Fusion a new rogue's gallery of scientists joins the races, including mechanic and pilot Amelia Earhart, computer scientist Alan Turing and inventor/actor Hedy Lamarr. Each of these amazing minds have managed to travel both back and forth in time in order to escape a terrible Martian War and decide who is going to become the new ambassador for Earth.
Two new race settings have been added to the Steampunk Rally universe based on Machu Picchu during the heyday of the Aztecs and the planet of Mars. Alongside the new settings, story and scientists are several new mechanics including exploding parts that can be sacrificed to give instantly powerful effects and cogs that can be paid to upgrade existing machine parts.
The addition of fusion dice enables players to place dice into any coloured slot on their machine part, allowing them to be rolled to activate that part's particular power - however, they cannot be vented until the attached machine part is removed. Another new mechanic is the secret plans that every scientist gains at the start of the game, which they keep hidden and attempt to complete before the end. Whenever an element of the secret project is completed, players can choose to reveal it and gain the rewards - the longer they wait, the greater the reward becomes.
Elements of Steampunk Rally Fusion can be combined with the original Steampunk Rally - such as scientist characters, machine parts and race tracks - to create an entirely unique family board game as well.
The designer for Steampunk Rally Fusion is Orin Bishop, the creator of the original Steampunk Rally, who is teaming up with publisher Roxley - the company behind beginner board game Santorini and Brass: Lancashire - once again to release this new standalone game.
Steampunk Rally Fusion is currently on Kickstarter until May 14th 2020, with a pledge of $55 (£45) getting backers a copy of the core game estimated to arrive sometime in August 2020.