Exploding Kittens' new shouting word-game is like "Scattergories meets Super Mario Kart"
Be loud in the library.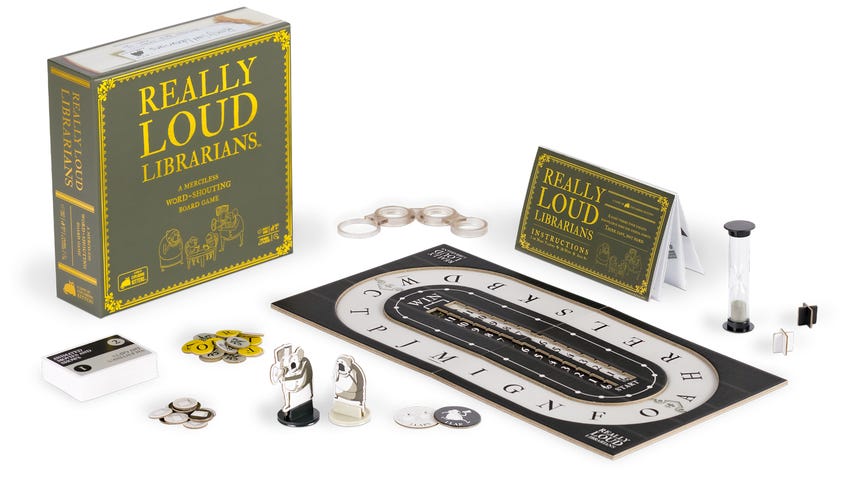 The next board game from Exploding Kittens studio is a word game where players shout.
Described by its publisher as being "like Scattergories meets Super Mario Kart," Really Loud Librarians is an upcoming board game that combines wordplay with yelling. Designed to support groups of over two players, Really Loud Librarians sees players splitting into teams in order to reach the game's shared goal before the opposing team.
Wheels highlights some of the best party board games you can find.
Each team will be presented with various categories throughout the party board game - such as breakfast cereals or action films – with players needing to yell out examples of words from the current category in play. Rather than points being awarded to more complicated words, Really Loud Librarians rewards those players who are able and willing to yell at a higher volume than others.
Another important element to the game is that players shout words within the current category that begin with the first letter found on a track of letters spread across the table. Each correctly yelled word will move teams along the track, with every subsequent word needing to start with the next letter found on the track. Whichever team reaches the end of the track first is named the winner.
Johnny, Wheels and Lolies play On a Scale of One to T-Rex.
Apart from Really Loud Librarians and Exploding Kittens, the Exploding Kittens studio is responsible for designing and publishing the dexterity board game A Game of Cat and Mouth – wherein players attempt to fire a ball through a hole using a plastic cat's paw in order to score points – as well as other party card games like On a Scale of One to T-Rex and You've Got Crabs!
Really Loud Librarians is available for a retail price of $19.99 (£16.42) from the Exploding Kittens store, as well as US-exclusive retail chain Target and its online store.