The bassist from Cherry Bomb band The Runaways is making a board game about being a rock musician
Jackie Fox's Rock Hard: 1977 will task players with writing songs, playing gigs and trying to make it big.
The former bassist of seventies rock band The Runaways - best known for their debut single (ch-ch-ch-ch-) Cherry Bomb - has designed a board game about being a rock musician.
While not present on the group's debut, Jackie Fox played bass on the band's second album Queens of Noise as part of the Joan Jett-led group's "Famous Five" line-up. (She also went on to have a successful second career as an actor and game show contestant, including winning Jeopardy four times.) Fox's first record with The Runaways was released in 1977, which may have influenced the title of her board game, Rock Hard: 1977. (Stop those giggles at the back.)
The board game puts up to five players in the spit-covered shoes of musicians trying to make it big as part of a band. Over each 45 to 90-minute game - broken into nine rounds spanning April to December 1977 - the wannabe rock stars will need to divide their time between writing songs, rehearsing, playing gigs and dealing with the business end of being a musician by signing record deals, managing their royalties and earning publicity bonuses.
Those activities will also be split between days and nights, allowing the players to hang out and party after shows to grow their reputation but needing to be mindful of overdoing it and crashing. Among the ways to help them will be the ability to guzzle sweets to give them a sugar rush, with unique character abilities - such as those of the Lead Guitar Party Animal - providing bonus actions and ways to deal with their cravings.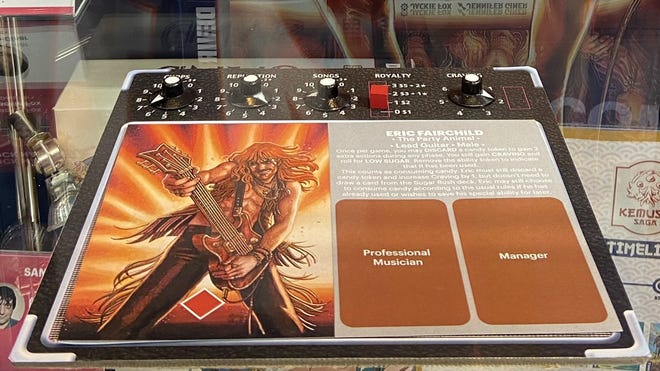 On each character board will be dials styled after a guitar amp to track each character's acquired chops, reputation and songs - which in classic Spinal Tap fashion will go up to 11. (Thanks, BoardGameGeek.) Fox's from-experience gameplay, which has been in the works since at least mid-2021, will be complemented by artwork from Jennifer Giner.
Rock Hard: 1977 is planned for release at Gen Con next summer.