Greek god board game gem Santorini returns with new co-op expansion and deluxe Pantheon Edition
Riddle of the Sphinx will also include a single-player mode.
Godly strategy game Santorini is back with a fancy new edition and a brand new co-op expansion, launching on Kickstarter next month.
Based on a game created decades ago by Gordon Hamilton, before being released in a plain 2004 edition, Santorini is effectively an abstract board game like draughts (checkers for our US friends) or chess in Greek god clothing.
Players only perform two actions on their turn - moving one of their builder miniatures one space (including up or down a single level), before adding a building to an adjacent space. If a builder moves onto the third level of a building, they win - but buildings can be capped by placing a dome on the third level, blocking an opponent from victory.
Mixing things up is a roster of dozens of Greek gods chosen by players at the start of the game, each with their own unique power from extra actions to different win conditions - such as Apollo's extra movement or Demeter's additional building.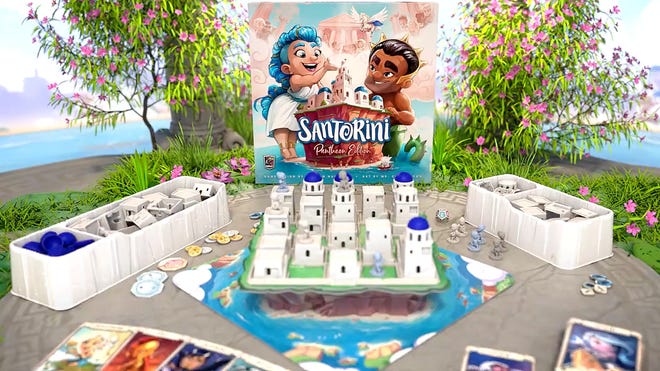 The base game included both basic and advanced gods, with 2017 expansion Golden Fleece introducing new gods, hero characters and a Golden Fleece figure, which grants a god power to whichever player touches it.
Upcoming board game Santorini: Pantheon Edition looks to revamp the original's rules and components in a premium deluxe edition, adding a new 3D island frame to the game's distinctive island board, 'newly remastered' buildings with increased detail and a vac tray storage system in the box.
Alongside the fancy contents will be revised rules and brand new gods, including some of the characters previously released as promo packs for the game. A teaser trailer showed off familiar names including Iris, the Hydra, Jason, Nyx, Odysseus, Persephone, Ares, Morpheus and Moerae.
The Pantheon Edition will be accompanied by a brand new co-operative expansion in Riddle of the Sphinx. Designers Paul Saxberg and James van Niekerk's co-op mode can be played with up to four people or solo, spanning a number of unique scenarios set across the Greek isles detailed in a dedicated adventure book.
A Kickstarter campaign for Santorini: Pantheon Edition and Riddle of the Sphinx will launch on April 11th, with price and release details yet to be announced.