Sea of Thieves RPG's first big expansion adds ghost ships, ashen lords, vaults and emissaries
A Tale of Two Captains out in digital now, with a print release in August.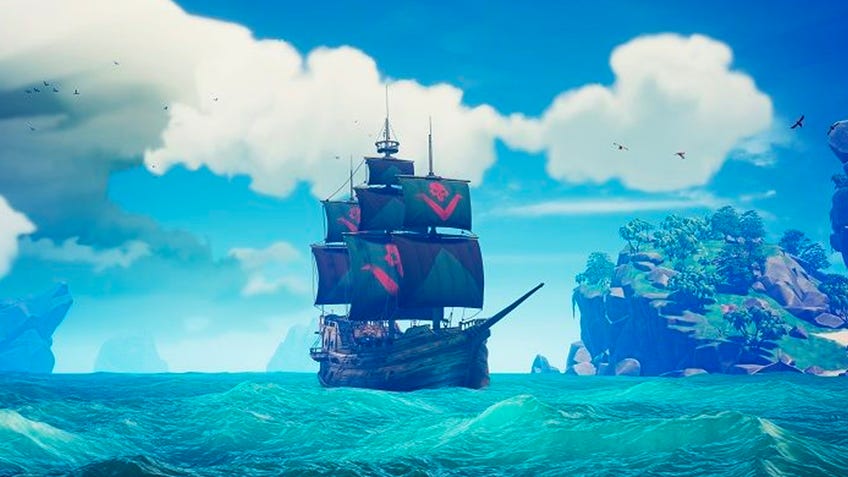 The Sea of Thieves RPG has received its first major supplement, introducing a number of recent updates from the seafaring video game to its tabletop counterpart.
A Tale of Two Captains follows two smaller supplements previously released as digital-only expansions that similarly incorporated elements from the PC and Xbox One title. Hunting the White Lady introduced rules for encounters with the sea's fearsome giant shark Megalodons, along with the ability for player characters to use ship-mounted harpoons. Juliana's Heart, meanwhile, added a tabletop equivalent to Sea of Thieves' player-versus-player Arena, plus more detailed ways of handling modular damage to ships and the impact of waves while sailing.
The upcoming 176-page A Tale of Two Captains book comprises content from both Hunting the White Lady and Juliana's Heart - including both voyage scenarios in full - plus new gameplay rules, characters and places from more than a dozen of the video game's updates from the past year or so.
Among the highlights are details on Sea of Thieves' four ashen lords - particularly tough pirate rulers that players can optionally face for greater rewards - several new fortresses for crews to explore and the chance to run into ghost ships, which can be sent back to the ocean's depths for loot.
Smaller but no less attractive additions include dedicated rules for burning firebombs and mast-wrecking chainshot ammunition, the ability to sail as an emissary for one of the world's factions and the hidden Vaults of the Ancients, which can be discovered and emptied of their treasure. Publisher Mongoose adds that the new book also allows players' pirates to adopt a parrot as their faithful pet.
A Tale of Two Captains is available as a digital PDF now, priced at £25. A print version will be released towards the end of August for £45, bundling in an exclusive DLC code for the video game version that unlocks the Bonny Belle sails.
The full list of Sea of Thieves updates included in A Tale of Two Captains is:
Dark Relics
Smuggler's Fortune
Fort of the Damned
Seabound Soul
Festival of Giving
Legends of the Sea
Crews of Rage
Heart of Fire
Ships of Fortune
Lost Treasures
Haunted Shores
Ashen Winds
Vaults of the Ancients