Rummy reinvented in tile-laying four-player family board game
Step-up to Setup.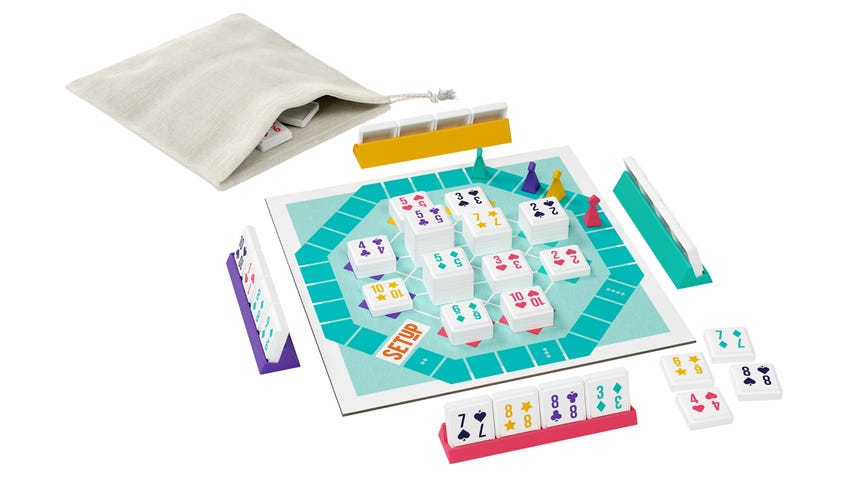 A new tile-laying game called Setup looks to reinvent the formula of the classic card game, Rummy.
Designed to support up to four players – unlike original Rummy, which supports only two – Setup is an upcoming board game that takes the spirit of Rummy and transforms it into a complete board game
.
A classic card game that dates back to the early 20th century, Gin Rummy is a card game for two players that has them attempting to acquire two sets of cards. Players can collect either cards of the same number or a row of cards from the same suit. During the game, players choose to draw either the top card from the discard pile or check the top card of the deck, before discarding it if they don't want to take it. Whenever they decide to take a card, players must discard one card from their hand in return. Whichever player manages to collect two sets of either matching numbers or a row is the winner.
Watch on YouTube
Wheels highlights some of the most exciting board games coming this year.
Setup takes the concept of Rummy and translates it into a tile-laying family board game. In either a free-for-all mode for up to four players or a team mode that supports two teams of two, players in Setup take turns to place card-like tiles onto a shared board. During the game, players will want to score as many points as possible by creating sets of matching numbers or rows. Players can place a tile onto the game board to create sets to score points for themselves or their team. However, players will need to be careful not to set the board up for their opponents to score points from too easily.
Besides placing tiles onto empty spaces on the game board, players in Setup will also have the option to stack tiles on top of each other – thereby opening up new opportunities to score points for themselves or their opponents. On top of this, players will have their own bonus squares on which they can place tiles for themselves or their opponents to use. Should another player use a tile from their bonus squares to make a set with, then both that player and the bonus square owner scores points for that set.
Liv shares some of her favourite party board games to whip out at any get-together.
Setup was developed by Bezzerwizzer Studio, the company behind the trivia party board game Bezzerwizzer. Asmodee is the publisher responsible for releasing Setup, with the company owning several notable studios such as Days of Wonder – the publisher behind Ticket to Ride – and Catan Studios, the publisher of Catan.
The release date for Setup is set for April 1st, with the title being sold at a retail price of $30 (£24).