Solve crimes with friends in graphic novel board game Sherlock Holmes: Baker Street Irregulars
Doing it by the book.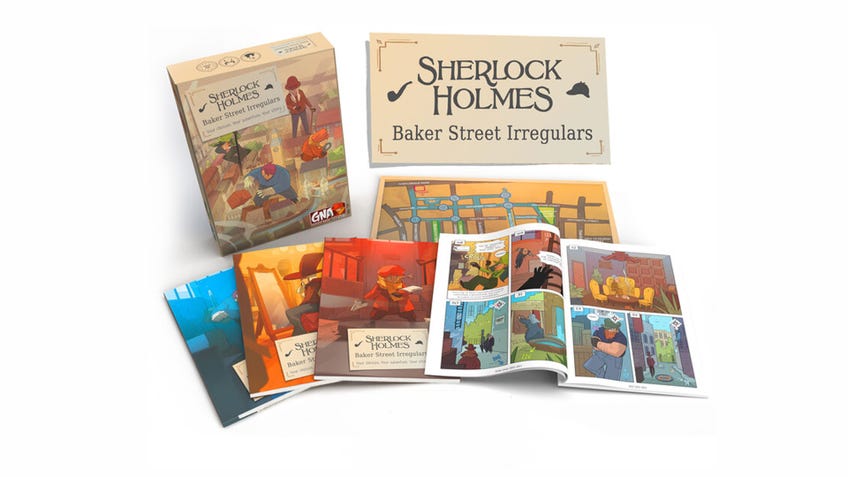 You can now sleuth as a group in the co-operative graphic novel board game Sherlock Holmes: Baker Street Irregulars.
Inspired by Arthur Conan Doyle's novels, Baker Street Irregulars follows the adventures of four plucky urchins as they explore the streets of London on a mission to solve mysteries. Turn through the pages of each unique character book as you search for clues, using each of the urchins' individual abilities and strengths to overcome obstacles.
A game for one to four players Baker Street Irregulars has you and your friends choosing from the perceptive Wiggins, stealthy Myrtle, bulky Ike or acrobatic Vicky in an effort to complete one of several missions set across the city of London. Once players have selected their case and character they set out on the hunt for clues, using the map provided to navigate the streets and find key locations.
During the Irregulars' adventures they may encounter challenges that prevent them from obtaining clues or cornering suspects, which is where the characters' unique skills come into play. When faced with an obstacle players will be able to refer to their character book to see if they have the right abilities to tackle it, for example, a building may be scaled by a ladder if the agile Vicky is in play. However, some paths may not be passable by any character meaning that players will have to regroup at the starting location and explore another route.
With the different approaches provided by each character players will be able to explore each case in multiple ways, with every way offering new challenges and clues to find. When all the possible clues are obtained players can then gather their findings and come up with a winning solution. Once the case is solved players can move onto the next or choose to pick the game up later, as progress can be saved at any time.
Each book is illustrated in a graphic novel style with a 'choose-your-own' adventure structure, and with everything players need contained in the six books and map provided. Baker Street Irregulars is being developed by Van Ryder Games, who have created several graphic novel adventures including a horror title called Captive and a previous detective release called Sherlock Holmes: Four Investigations.
Sherlock Holmes: Baker Street Irregulars is currently on Kickstarter until December 23rd with a base pledge of around £23 getting you a copy of the core game, which is expected to ship around May 2020. A retail release has not yet been confirmed.