Civilization: A New Dawn has a new solo mode and AI opponent you can download for free
From Terra Incognita expansion designer.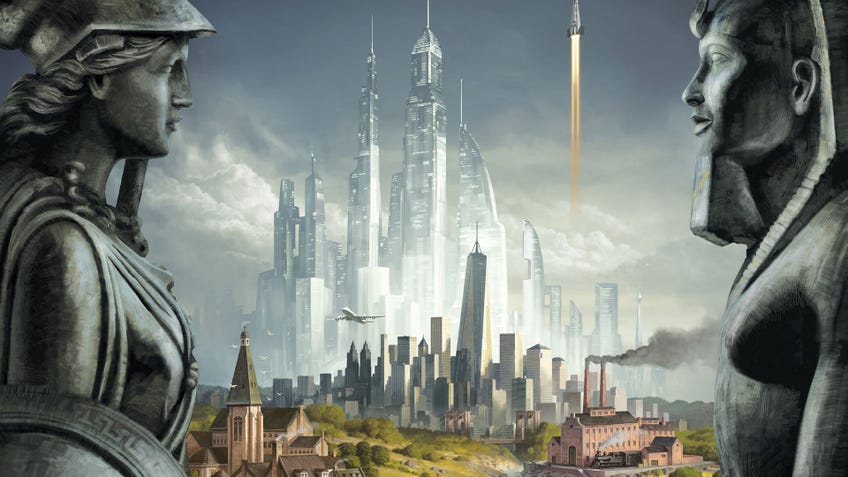 Sid Meier's Civilization: A New Dawn, the latest board game spin-off from the strategy video game series, has received a free single-player mode you can download and play at home.
Released in 2017, A New Dawn draws loosely from the latest entry in the long-running strategy PC series, Civilization VI. Players race to completely victory objectives by expanding their civilisation, developing its technology and diplomacy or military might, using the cards in front of them to perform various actions.
The first expansion for A New Dawn, Terra Incognita, was recently revealed by publisher Fantasy Flight Games. The upcoming release is said to introduce specific gameplay elements from Civilization VI, including districts and exploration, as well as increasing the maximum player count to five and doubling the number of playable leaders. The expansion is due for release later this year, costing $40.
Ahead of Terra Incognita's release, the expansion's designer Tony Fanchi has announced a free solo variant for A New Dawn, which allows the multiplayer game to be played with a single person.
Civilization: A New Dawn's solo mode introduces an "automated player" controlled by a set of instructions that Fanchi describes as "a highly simplified version of the code that operates the AI opponents in the Civilization video games".
The game-controlled opponent uses the same set of components as a human player, plus a new set of action cards designed to remove decisions that a human player would need to make. The AP activates the card in the fifth slot of its focus bar before moving the card back to the first slot, cycling through different actions each turn. Fanchi notes that the system means the opponent's moves are predictable, giving the solo game more of a puzzle-like feel.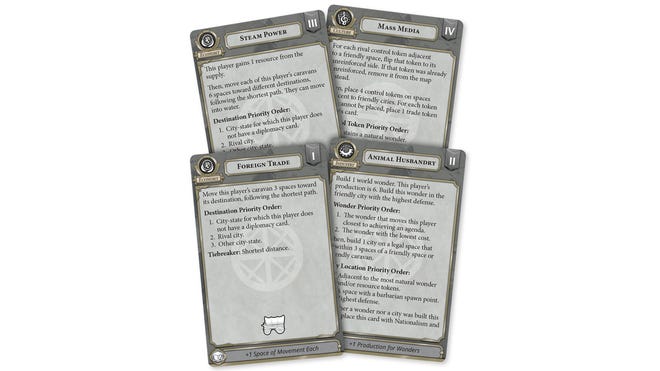 The AI opponent includes five difficulty levels to choose from, up to the highest challenge of Empress. During a single playthrough, the automated player is tuned to steadily increase its power by upgrading focus cards, keeping it relatively in-line with the player's own progression.
As well as allowing for a single-player mode, the automated player rules can be used to fill a seat in multiplayer games with up to three other players.
The rules and new action cards required to play A New Dawn with the automated player in either the solo variant or multiplayer matches are available to download for free from Fantasy Flight's website.