Form a tech start-up in Silicon Valley, the next game from the creator of Tiny Epic Galaxies
Venture inside.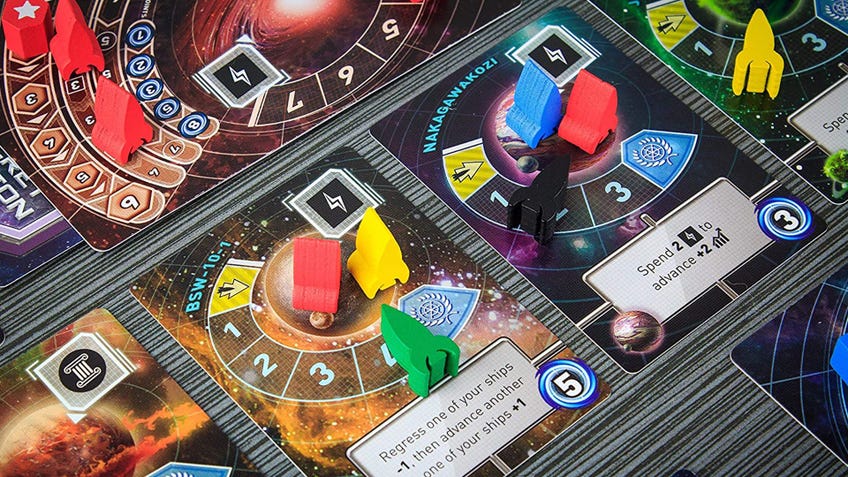 Become the next biggest technology creator in Silicon Valley, an upcoming board game about competing corporations by the maker of Tiny Epic Galaxies - Scott Almes.
Designed for two to four players, Silicon Valley is a game about forming a tech start-up in the San Francisco Bay area popular with ambitious CEOs. An euro-style title - meaning that its mechanics are more centred around strategy and less around luck - Silicon Valley has players competing against one another to launch the most popular products in order to boost their company's worth. During the game, players are able to create a new piece of technology to release into the market, with the hopes that they will receive various benefits to give them the edge over their rivals.
However, in order to launch new products, players will need to gather funds from venture capitalists who are willing to support their new ideas. Players will also need to hire staff into their Silicon Valley location to work on their technology. Once a player is ready to create their product, they build a pattern using various polyomino tiles - with each tile representing a staff member's code or ideas - which they then release onto the market and receive benefits for every round.
Once a product is on the market, other players can choose to copy that pattern and release it as their own technology. Newer products will gain more benefits that older ones, replacing the popularity of the original with something more refined. This means that players are always at-risk of their rivals duplicating their ideas as soon as they hit the market.
Throughout the game, players will have to carefully manage their funding and capital to prevent their company from going bankrupt. Whichever player reaches a net worth of $1 billion first is named the winner. Silicon Valley also comes with a solo game mode for single-player playthroughs.
Besides Tiny Epic Galaxies, Almes is also known for designing various other titles in the Tiny Epic series - such as Tiny Epic Kingdoms and the recently released Tiny Epic Galaxies Blast Off! - alongside the worker-placement game, Harbour.
Silicon Valley is being published by Grail Games, a company responsible for releasing board games such as Reiner Knizia's Stephenson's Rocket and Yellow & Yangtze - which is receiving a deluxe version, called The Royal Palace, sometime next year.
The announcement for Silicon Valley happened during a live stream as part of the Spiel.Digital 2020 online convention, which took place last weekend, wherein Grail Games revealed several other games - including Yellow & Yangtze: The Card Game - and interviewed Almes about the upcoming game.
The Kickstarter campaign for Silicon Valley is set to be launched sometime next year, with the game possibly releasing later in 2021.